Service locations
29th December 1967
Page 25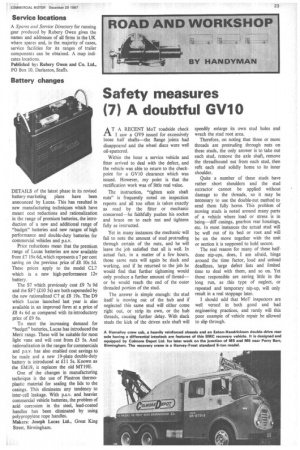 Page 25, 29th December 1967 —
Service locations
Close
A Spares and Service Directory for running gear produced by Rubery Owen gives the names and addresses of all firms in the UK where spares and, in the majority of cases, service facilities for its ranges of trailer components can be obtained. A map indicates locations.
Published by: Rubery Owen and Co. Ltd., PO Box 10. Darlaston. Staffs.
Battery changes
DETAILS of the latest phase in its revised battery-marketing plans have been announced by Lucas. This has resulted in new manufacturing techniques which have meant cost reductions and rationalization in the range of premium batteries, the introduction of a new and additional range of "budget" batteries and new ranges of high performance and double-duty batteries for commercial vehicles and p.s.v.
Price reductions mean that the premium range of Lucas batteries are now available from £7 19s 64, which represents a 7 per cent saving on the previous price of £8. lOs 5d. These prices apply to the model CL7 which is a new high-performance 12v battery.
The S7 which previously cost £9 7s 9d and the SF7 (£10 5s) are both superseded by the new rationalized C7 at £8 19s. The D9 which Lucas launched last year is also available in an improved form at a price of £8 4s 6d as compared with its introductory price of £9 6s.
To meet the increasing demand for "budget" batteries, Lucas has introduced the Merit range. These will be suitable for most light vans and will cost from £5 5s. And rationalization in the ranges for commercials and p.s.v. has also enabled cost savings to be made and a new 19-plate double-duty battery is introduced at £11 5s. Known as the EM19, it replaces the old MT19E.
One of the changes in manufacturing technique is the use of Plastron thermoplastic material for sealing the lids to the casings. This eliminates any tendency to inter-cell leakage. With p.s.v. and heavier commercial vehicle batteries, the problem of acid corrosion in the steel, lead-coated handles has been eliminated by using polypropylene rope handles.
Makers: Joseph Lucas Ltd., Great King Street, Birmingham.