Time limits
29th August 1996
Page 46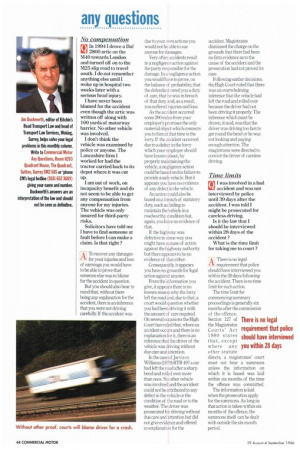 Page 46, 29th August 1996 —
Time limits
Close
I was involved in a bad accident and was not interviewed by police until 39 days after the accident. I was told I might be prosecuted for careless driving.
Is it the law that I should be interviewed within 28 days of the accident ?
What is the time limit for taking me to court ?
Xi There is no legal rid requirement that police should have interviewed you within the 28 days following the accident There is no time limit for such action.
The time limit for commencing summary proceedings is generally six months after the commission of the offence. Section 127 of the Magistrates Courts' Act 1980 states that, except where any other statute directs, a magistrates' court must not hear a summons unless the information on which it is based was laid within six months of the time the offence was committed.
The information is laid when the prosecution apply for the summons. As long as that action is taken within six months of the offence, the summons itself can be dealt with outside the six-month period.