P&O and Stena get closer
29th August 1996
Page 12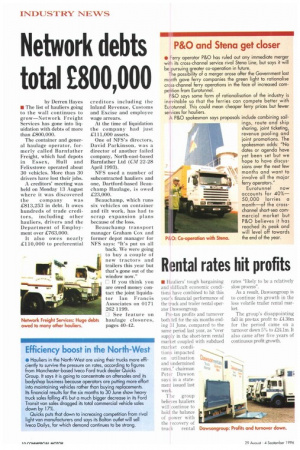 Page 12, 29th August 1996 —
P&O and Stena get closer
Close
• Ferry operator P&O has ruled out any immediate merger with its cross-channel service rival Steno Line, but says it will be pursuing greater co-operation in future.
The possibility of a merger arose after the Government last month gave ferry companies the green light to rationalise cross-channel ferry operations in the face of increased competition from Eurotunnel. P&O says some form of rationalisation of the industry is inevitable so that the ferries can compete better with Eurotunnel. This could mean cheaper ferry prices but fewer services for hauliers.
A P&O spokesman says proposals include combining sailings, route and ship sharing, joint ticketing, revenue pooling and joint promotions. The spokesman adds: "No dates or agenda have yet been set but we hope to have discussions over the next few months and want to involve all the major ferry operators." Eurotunnel now accounts for 40%— 1E1 elle■ 50,000 lorries a
month—of the crosschannel short-sea commercial market but P&O believes it has reached its peak and will level off towards the end of the year.