Network debts total £800,000
29th August 1996
Page 12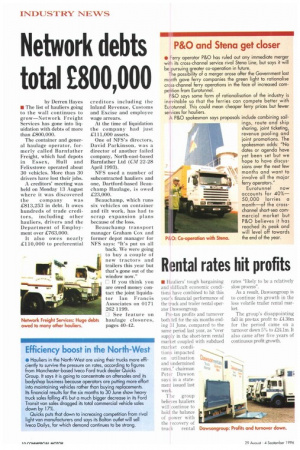 Page 12, 29th August 1996 —
Network debts total £800,000
Close
by Derren Hayes • The list of hauliers going to the wall continues to grow—Network Freight Services has gone into liquidation with debts of more than £800,000.
The container and general haulage operator, formerly called Barnfather Freight, which had depots in Essex, Hull and Felixstowe operated about 30 vehicles. More than 30 drivers have lost their jobs.
A creditors' meeting was held on Monday 13 August where it was discovered the company was £813,253 in debt. It owes hundreds of trade creditors, including other hauliers, drivers and the Department of Employment over £763,000.
It also owes nearly £110,000 to preferential creditors including the Inland Revenue, Customs and Excise and employee wage arrears.
At the time of liquidation the company had just El 11 ,000 assets.
One of NFS's directors, David Parkinson, was a director of another failed company, North-east-based Barnfather Ltd (CM 22-28 April 1993).
NFS used a number of subcontracted hauliers and one, Dartford-based Beauchamp Haulage, is owed £23,000.
Beauchamp, which runs six vehicles on container and tilt work, has had to scrap expansion plans because of the loss.
Beauchamp transport manager Graham Cox and former depot manager for NFS says: "It's put us all back. We were going to buy a couple of new tractors and trailers this year but that's gone out of the window now."
E If you think you are owed money contact the joint liquidator Ian Francis Associates on 0171 262 1199.
See feature on haulage closures, pages 40-42.