Hauliers slam :C 50mph limit plan
29th August 1991
Page 6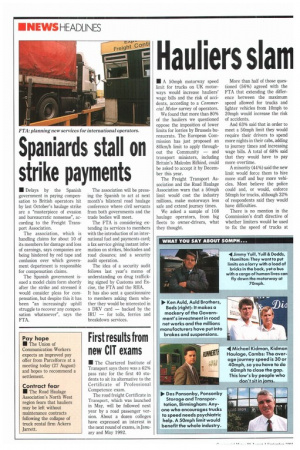 Page 7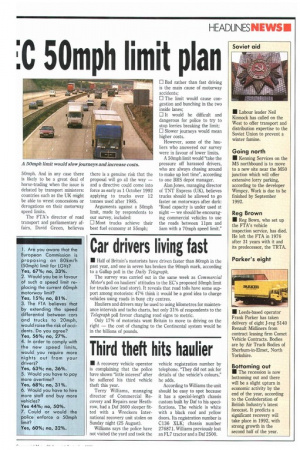 Page 6, 29th August 1991 —
Hauliers slam :C 50mph limit plan
Close
A 50mph motorway speed limit for trucks on UK motorways would increase hauliers' wage bills and the risk of accidents, according to a Commercial Motor survey of operators.
We found that more than 80% of the hauliers we questioned oppose the imposition of lower limits for lorries by Brussels bureaucrats. The European Commission has just proposed an 80km/h limit to apply throughout the Community — and transport ministers, including Britain's Malcolm Rifkind, could be asked to accept it by December this year.
The Freight Transport Association and the Road Haulage Association warn that a 50mph limit would cost the industry millions, make motorways less safe and extend journey times.
We asked a sample of 108 haulage operators, from big fleets to owner-drivers, what they thought. More than half of those questioned (56%) agreed with the FTA that extending the difference between the maximum speed allowed for trucks and lighter vehicles from lOmph to 20mph would increase the risk of accidents.
And 63% said that in order to meet a 50mph limit they would require their drivers to spend more nights in their cabs, adding to journey times and increasing wage bills. A total of 68% said that they would have to pay more overtime.
A minority (44%) said the new limit would force them to hire more staff and buy more vehicles. Most believe the police could and, or would, enforce 50mph for trucks, although 32% of respondents said they would have difficulties.
There is no mention in the Commission's draft directive of whether limiters would be used to fix the speed of trucks at 50mph. And in any case there is likely to be a great deal of horse-trading when the issue is debated by transport ministers: countries such as the UK might be able to wrest concessions or derogations on their motorway speed limits.
The FTA's director of road transport and parliamentary affairs, David Green, believes
there is a genuine risk that the proposal will go all the way — and a directive could come into force as early as 1 October 1992 applying to trucks over 12 tonnes used after 1985.
Arguments against a 50mph limit, made by respondents to our survey, included: ED Most trucks achieve their best fuel economy at 55mph:
CI Bad rather than fast driving is the main cause of motorway accidents;
LI The limit would cause congestion and bunching in the two inside lanes;
0 It would be difficult and dangerous for police to try to stop lorries breaking the limit; o Slower journeys would mean higher costs.
However, some of the hauliers who answered our survey were in favour of lower limits.
A 50mph limit would "take the pressure off harassed drivers, who are always chasing around to make up lost time", according to one BRS depot manager.
Alan Jones, managing director of TNT Express (UK), believes trucks should be allowed to go faster on motorways after dark: "Road capacity is under used at night — we should be encouraging commercial vehicles to use the roads between 11pm and 5am with a 70mph speed limit."