STANDARD BEARERS
29th August 1991
Page 34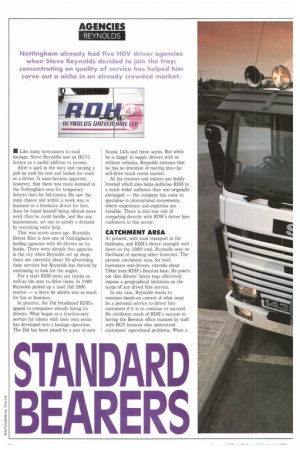 Page 35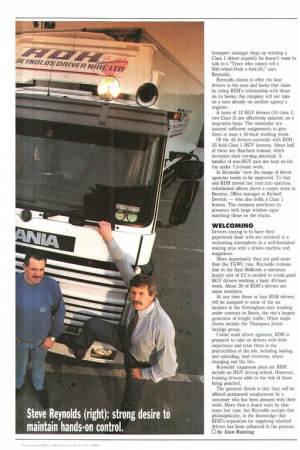 Page 34, 29th August 1991 —
STANDARD BEARERS
Close
• Like many newcomers to road haulage, Steve Reynolds saw an HGV1 licence as a useful addition to income.
After .a spell in the navy and running a pub he took his test and looked for work as a driver. It soon became apparent, however, that there was more demand in the Nottingham area for temporary drivers than for full-timers. He saw the main chance and within a week was in business as a freelance driver for hire. Soon he found himself being offered more work than he could handle, and like any businessman, set out to satisfy a demand by recruiting extra help.
That was seven years ago. Reynolds Driver Hire is now one of Nottingham's leading agencies with 45 drivers on its books. There were already five agencies in the city when Reynolds set up shop; there are currently about 20 advertising their services but Reynolds has thrived by continuing to look for the angles.
For a start RDH rents out trucks as well as the men to drive them. In 1989 Reynolds picked up a used Daf 2800 tractor — a move he admits was as much for fun as business.
In practice, the Daf broadened RDH's appeal to companies already hiring its drivers. What began as a traction-only service for clients with their own semis has developed into a haulage operation. The Daf has been joined by a pair of new
Scania 143s and three semis. But while he is happy to supply drivers with or without vehicles, Reynolds stresses that he has no intention of moving into the sell-drive truck rental market.
All his tractors and trailers are boldly liveried which also helps publicise RDH to a much wider audience than was originally envisaged — the company has come to specialise in international movements, where experience and expertise are valuable. There is also less risk of competing directly with RDH's driver hire customers in this sector.
CATCHMENT AREA
At present, with road transport in the doldrums, and RDH's driver strength well down on the 1989 total, Reynolds sees no likelihood of opening other branches. The present catchment area, for both customers and drivers, extends about 75km from RDH's Beeston base. He points Out that drivers' hours regs effectively impose a geographical limitation on the scope of any driver hire service.
In any case, Reynolds wants to maintain hands-on control of what must be a personal service to driver hire customers if it is to continue to succeed. He attributes much of RDH's success to having the Beeston office manned by staff with HGV licences who understand customers' operational problems. When a
transport manager rings up wanting a Class 1 driver urgently he doesn't want to talk to a "Tracy who cannot tell a fifth-wheel from a fork-lift," says Reynolds.
Reynolds claims to offer the best drivers in the area and backs that claim by citing RDH's relationship with those on its books; the company will not take on a man already on another agency's register.
A team of 12 HGV drivers (10 class 1, two Class 3) are effectively salaried, on a long-term basis. The remainder are assured sufficient assignments to give them at least a 40-hour working week.
Of the 45 drivers currently with RDH, 35 hold Class 1 HGV licences. About half of these are Hazchem trained, which increases their earning potential. A handful of non-HGV men are kept on for the under 7.5-tonne work.
In Reynolds' view the image of driver agencies needs to be improved. To that end RDH moved last year into spacious, refurbished offices above a carpet store in Beeston. Office manager is Richard Derrick — who also holds a Class 1 licence. The company proclaims its presence with large window signs matching those on the trucks.
WELCOMING
Drivers coming in to have their paperwork dealt with are received in a welcoming atmosphere in a well-furnished waiting area with a drinks machine and magazines.
More importantly they are paid more than the TGWU rate. Reynolds reckons that in the East Midlands a minimum hourly rate of £5 is needed to retain good HGV drivers working a basic 40-hour week. About 30 of RDH's drivers are union members.
At any time three or four RDH drivers will be assigned to some of the six hauliers in the Nottingham area working under contract to Boots, the city's largest generator of freight traffic. Other major clients include the Thompson Jewitt haulage group.
Unlike most driver agencies, RDH is prepared to take on drivers with little experience and train them in the practicalities of the job, including loading and unloading, load retention, wheel changing and the like.
Reynolds' expansion plans for RDH include an HGV driving school. However, training drivers adds to the risk of them being poached.
The greatest threat is that they will be offered permanent employment by a customer who has been pleased with their work. More than a dozen went by that route last year, but Reynolds accepts this philosophically, in the knowledge that RDH's reputation for supplying talented drivers has been enhanced in the process.
by Alan Bunting