Complaint costs Whiteline
29th August 1991
Page 16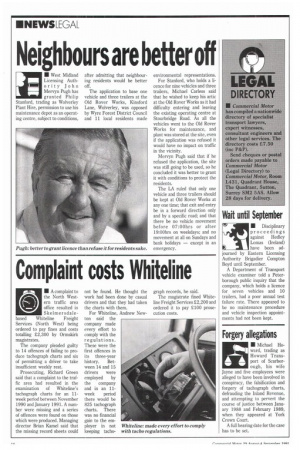 Page 16, 29th August 1991 —
Complaint costs Whiteline
Close
• A complaint to the North Western traffic area office resulted in Skelmersdale
based Whiteline Freight Services (North West) being ordered to pay fines and costs totalling £2,300 by Ormskirk magistrates.
The company pleaded guilty to 14 offences of failing to produce tachograph charts and six of permitting a driver to take insufficient weekly rest.
Prosecuting, Richard Green said that a complaint to the traffic area had resulted in the examination of Whiteline's tachograph charts for an 11week period between November 1990 and January 1991. A number were missing and a series of offences were found on those which were produced. Managing director Brian Kamel said that the missing record sheets could not be found. He thought the work had been done by casual drivers and that they had taken the charts with them.
company made every effort to comply with the regulations. These were the first offences in its three-year history. Between 14 and 15 drivers were employed by the company and in an 11week period there would be 825 tachograph charts. There was no financial gain to the employer in not keeping tacho graph records, he said.
The magistrate fined Whiteline Freight Services £2,200 and ordered it to pay £100 prosecution costs.