Toleman prepared for trouble
29th August 1991
Page 13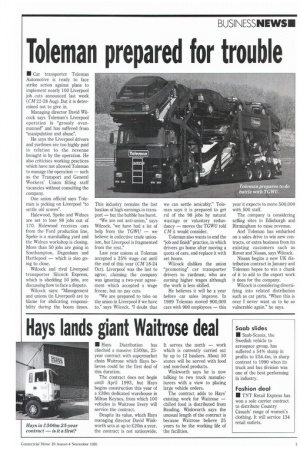 Page 13, 29th August 1991 —
Toleman prepared for trouble
Close
• Car transporter Toleman Automotive is ready to face strike action against plans to implement nearly 100 Liverpool job cuts announced last week (CM 22-28 Aug). But it is determined not to give in.
Managing director David Wilcock says Toleman's Liverpool operation is "grossly overmanned" and has suffered from "manipulation and abuse".
He says the Liverpool drivers and yardmen are too highly paid in relation to the revenue brought in by the operation. He also criticises working practices which have not allowed Toleman to manage the operation — such as the Transport and General Workers Union filling staff vacancies without consulting the company.
One union official says Toleman is picking on Liverpool "to settle old scores".
Halewood, Speke and Widnes are set to lose 98 jobs out of 170. Halewood receives cars from the Ford production line, Speke is a marshalling yard and the Widnes workshop is closing. More than 50 jobs are going in Southampton, Dagenham and Hartlepool — which is also going to close.
Wilcock and rival Liverpool transporter Silcock Express, which is shedding 50 jobs, are discussing how to face a dispute.
Wilcock says: "Management and unions (in Liverpool) are to blame for abdicating responsibility during the boom times.
This industry remains the last bastion of high earnings in transport — but the bubble has burst.
"We are not anti-union," says Wilcock, we have had a lot of help from the TGWU — we believe in collective trade unionism, but Liverpool is fragmented from the rest."
Last year unions at Toleman accepted a 25% wage cut until the end of this year (CM 18-24 Oct). Liverpool was the last to agree, claiming the company was ignoring a two-year agreement which accepted a wage freeze, but no pay cuts.
'We are prepared to take on the union in Liverpool if we have to," says Wilcock, 'I doubt that
we can settle amicably." Toleman says it is prepared to get rid of the 98 jobs by natural wastage or voluntary redundancy — moves the TGWU told CM it would consider.
Toleman also wants to end the "job and finish" practice, in which drivers go home after moving a quota of cars, and replace it with set hours.
Wilcock dislikes the union "promoting" car transporter drivers to yardmen, who are earning higher wages although the work is less skilled.
He believes it will be a year before car sales improve. In 1989 Toleman moved 900,000 cars with 900 employees — this year it expects to move 500,000 with 500 staff.
The company is considering selling sites in Edinburgh and Birmingham to raise revenue.
And Toleman has embarked on a sales drive to win new contracts, or extra business from its existing customers such as Rover and Nissan, says Wilcock.
Nissan begins a new UK distribution contract in January and Toleman hopes to win a chunk of it to add to the export work it does for the company.
Wilcock is considering diversifying into related distribution such as car parts. "When this is over I never want us to be so vulnerable again," he says.