Tankfreight staff in Texaco row
29th August 1991
Page 12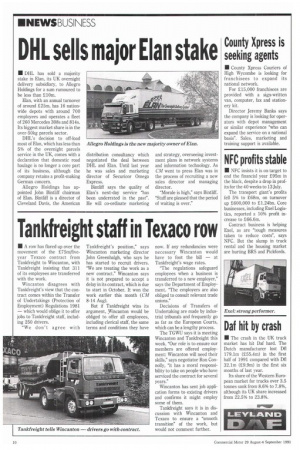 Page 12, 29th August 1991 —
Tankfreight staff in Texaco row
Close
• A row has flared up over the movement of the £75m/fiveyear Texaco contract from Tankfreight to Wincanton, with Tankfreight insisting that 311 of its employees are transferred with the work.
Wincanton disagrees with Tankfreight's view that the contract comes within the Transfer of Undertakings (Protection of Employment) Regulations 1981 which would oblige it to offer jobs to Tankfreight staff, including 250 drivers.
"We don't agree with
Tankfreight's position," says Wincanton marketing director John Greenhalgh, who says he has started to recruit drivers. "We are treating the work as a new contract." Wincanton says it is not prepared to accept a delay in its contract, which is due to start in October. It won the work earlier this month (CM 8-14 Aug).
But if Tankfreight wins its argument, ,Wincanton would be obliged to offer all employees, including clerical staff, the same terms and conditions they have now. If any redundancies were necessary Wincanton would have to foot the bill — at Tankfreight's wage rates.
"The regulations safeguard employees when a business is transferred to a new employer," says the Department of Employment. "The employers are also obliged to consult relevant trade unions."
Decisions of Transfers of Undertaking are made by industrial tribunals and frequently go as far as the European Courts, which can be a lengthy process.
The TGWU says it is meeting Wincanton and Tankfreight this week. Our role is to ensure our members are offered employment: Wincanton will need their skills," says negotiator Ron Connolly, "it has a moral responsibility to take on people who have serviced the contract for several years."
Wincanton has sent job application forms to existing drivers and confirms it might employ some of them.
Tankfreight says it is in discussion with Wincanton and Texaco to ensure a "smooth transition" of the work, but would not comment further.