Long delay for permit sanctions
29th August 1975
Page 7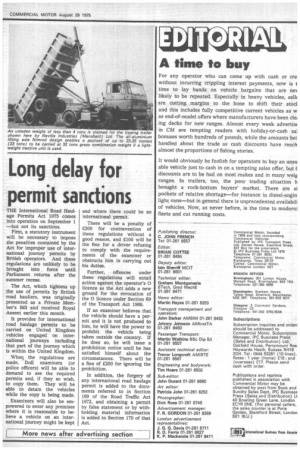 Page 7, 29th August 1975 —
Long delay for permit sanctions
Close
THE International Road Haulage Permits Act 1975 comes into operation on September 1 —but not its sanctions.
First, a statutory instrument will be necessary to impose the penalties contained by the Act for improper use of international journey permits by British operators. And these regulations are unlikely to be brought into force until Parliament returns after the summer recess.
The Act, which tightens up the use of permits by British road hauliers, was originally presented as a Private Member's Bill and received Royal Assent earlier this month.
It provides for international road haulage permits to be carried on United Kingdom vehicles engaged on international journeys including that part of the journey which is within the United Kingdom.
When the regulations are made, DoE examiners (or police officers) will be able to demand to see the required permits and, if they so wish, to copy them. They will be able to detain the vehicles while the copy is being made.
Examiners will also be empowered to enter any premises where it is reasonable to believe a vehicle on an international journey might be kept and where there could be an international permit.
There will be a penalty of £200 for contravention of these regulations without a good reason, and £100 will be the fine for a driver refusing to comply with the requirements of the examiner or obstructs him in carrying out his duties.
Further, offences under these regulations will entail action against the operator's 0 licence as the Act adds a new ground for the revocation of the 0 licence under Section 69 of the Transport Act 1968.
If an examiner believes that the vehicle should have a permit and it is not produced to him, he will have the power to prohibit the vehicle being taken outside the country. If he does so, he will issue a prohibition notice until he has satisfied himself about the circumstances. There will be a fine of £200 for ignoring the prohibition.
In addition, the forgery of any international road haulage permit is added to the documents referred to in Section 169 of the Road Traffic Act 1972, and obtaining a permit by false statement or by withholding material information is added to Section 170 of that Act.