Double-decker supply gloom
29th August 1975
Page 4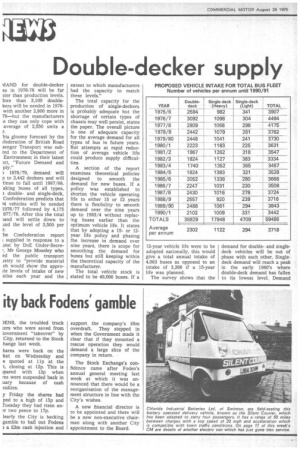 Page 5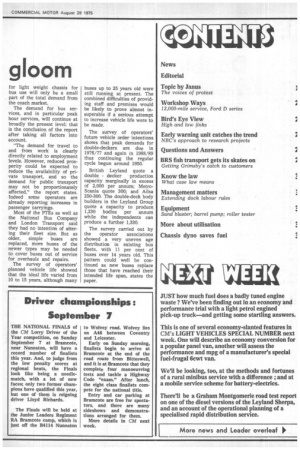 Page 4, 29th August 1975 —
Double-decker supply gloom
Close
VIAND for double-decker es in 1976-78 will be far iter than production levels. lore than 3,100 doublekers will be needed in 1976with another 2,800 more in 78—but the manufacturers .e they can only cope with average of 2,550 units a r.
his gloomy forecast by the ;federation of British Road senger Transport was subted to the Department of Environment in their latest Da, "Future Demand and ply."
1978/79, demand will p to 2,442 deckers and will tinue to fall until 1987/88. aking buses of all types, doubleand single-deck, Confederation predicts that 14 vehicles will be needed 1976/77 followed by 4,175 977/78. After this the total land will settle down to and the level of 3,500 per r.
he Confederation report ; supplied in response to a lest by DoE Under-Secrer, Mr George Moseley who ed the public transport Istry to "provide material ch would show the appro. ite levels of intake of new ides each year and the extent to which manufacturers had the capacity to match these levels."
The total capacity for the production of single-deckers is probably adequate but the shortage of certain types of chassis may well persist, states the paper. The overall picture is one of adequate capacity for the average demand for all types of bus in future years. But attempts at rapid reduction of average vehicle life could produce supply difficulties.
A section of the report examines theoretical policies designed to smooth the demand for new buses. If a policy was established to shorten the vehicle operating life to either 15 or 12 years there is flexibility to smooth demand over the nine years up to 1983/4 without replacing buses earlier than the optimum vehicle life. It states that by adopting a 15or 12year life policy and phasing the increase in demand over nine years, there is scope for smoothing the demand for buses but still keeping within the theoretical capacity of the manufacturer.
The total vehicle stock is stated to be 49,000 buses. If a 12-year vehicle life were to be adapted nationally, this would give a total annual intake of 4,083 buses as opposed to an intake of 3,266 if a 15-year life was planned.
The survey shows that •the demand for doubleand singledeck vehicles will be out of phase with each other. Singledeck demand will reach a peak in the early 1980's where double-deck demand has fallen to its lowest level., Demand for light weight chassis for bus use will only be a small part of the total demand from the coach market.
The demand for bus services, and in particular peak hour services, will continue at broadly the present level: that is the conclusion of the report after taking all factors into account.
"The demand for travel to and from work is clearly directly related to employment levels. However, reduced prosperity could be expected to reduce the availability of private transport, and so the demand for public transport may not be proportionately affected." the report states. Indeed some operators are already reporting increases in passenger carryings.
Most of the PTEs as well as the National Bus Company and London Transport said they had no intention of altering their fleet size. But as older, simple buses are replaced, more buses of the newer types may be needed to cover buses out of service for overhauls and repairs.
The survey of operators' planned vehicle life showed that the ideal life varied from 10 to 15 years, although many buses up to 25 years old were still running at present. The combined difficulties of providing staff and premises would be likely to prove almost insuperable if a serious attempt to increase vehicle life were to be made.
The survey of operators' future vehicle order intentions shows that peak demands for double-deckers are due in 1976/77 and again in 1988/89 thus continuing the regular cycle begun around 1950.
British Leyland quote a double decker production capacity marginally in excess of 2,000 per annum; MetroScanta quote 300; and Ailsa 250-300. The double-deck body builders in the Leyland Group quote a capacity to produce 1,230 bodies per annum while the independents can produce a further 1,330.
The survey carried out by the operator associations showed a very uneven age distribution in existing bus fleets, with 11 per cent of buses over 14 years old. This pattern could well be continued as new buses replace those that have reached their intended life span, states the paper.