BRS fish distribution gets its skates on
29th August 1975
Page 30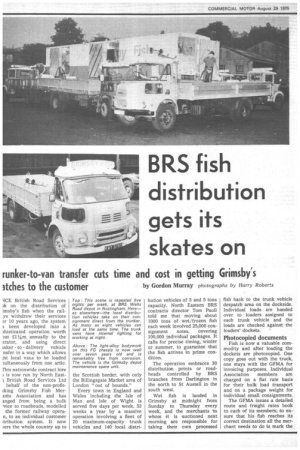 Page 31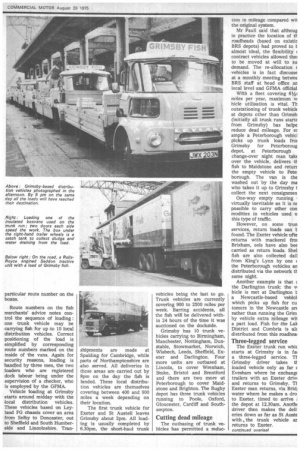 Page 32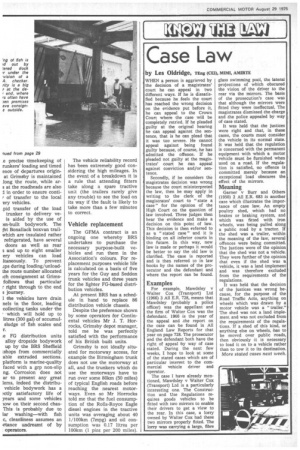 Page 30, 29th August 1975 —
BRS fish distribution gets its skates on
Close
runker-to-van transfer cuts time and cost in getting Grimsby's
itches to the customer by Gordon Murray photographs by Harry Roberts NICE British Road Services on the distribution of imsby's fish when the rail.ys withdrew their services at10 years ago, the system 5 been developed into a thisticated operation worth lut El 1/4m annually to the ..rator, and using direct inker to delivery vehicle nsfer in a way which allows ;ht local vans to be loaded lultaneously from one artic.
this nationwide contract hire is now run by North East' British Road Services Ltd behalf of the non-profitking Grimsby Fish Merants Association and has anged from being a bulk -vice to roadheads, modelled the former railway operan, to an individual customer aribution system. It now rers the whole country up to the Scottish border, with only the Billingsgate Market area of London "out of bounds."
Every town in England and Wales including the Isle of Man and Isle of Wight is served five days per week, 52 weeks a year by a massive operation involving a fleet of 20 maximum-capacity trunk vehicles and 140 local distri bution vehicles of 3 and 5 tons capacity. North Eastern BRS contracts director Tom Paull told me that moving about 1000 tons of wet/frozen fish each week involved 25,000 consignment notes, covering 100,000 individual packages. It calls for precise timing,, winter or summer, to guarantee that the fish arrives in prime condition.
The operation embraces 30 distribution points or roadheads controlled by BRS branches from Darlington in the north to St Austell in the south west.
Wet fish is landed in Grimsby at midnight from Sunday to Thursday every week, and the merchants to whom lit is auctioned next morning are responsible for taking their own processed fish back to the trunk vehicle despatch area on the dockside. Individual loads are handed over to loaders assigned to each trunk vehicle and the loads are checked against the loaders' dockets.
Photocopied documents
Fish is now a valuable commodity and after loading the dockets are photocopied. One copy goes out with the truck, one stays with the GFMA for invoicing purposes. Individual Association members are charged on a flat rate basis for their bulk load transport and on a package weight for individual small consignments.
The GFMA issues a detailed route and freight rates book to each of its members; to en-. sure that his fish reaches its correct destination all the merchant needs to do is mark the particular route number on the boxes.
Route numbers on the fish merChants' advice notes control the sequence of loading : one trunk vehicle may be carrying fish for up to 10 local distribution vehicles. Correct positioning of the load is simplified by corresponding route numbers marked on the inside of the vans. Again for security reasons, loading is handled by three men, the two loaders who are registered dock labour being under the supervision of a checker, who is employed by the GFMA.
Vehicle loading at Grimsby starts around midday with the local distribution vehicles. These vehicles based on Leyland FG chassis cover an area from Selby to Doncaster, out to Sheffield and South Humberside and Lincolnshire. Tran shipments are made at Spalding for Cambridge, while parts of Northamptonshire are also served. All deliveries in these areas are carried out by 8pm on the day the fish is landed. These local distribution vehicles are themselves covering between 400 and 900 miles a week depending on their location.
The first trunk vehicle for Exeter and St Austell leaves Grimsby about 2pm. All loading is usually completed by 6.30pm, the short-haul trunk vehicles being the last to go. Trunk vehicles are 'currently covering 900 to 2500 miles per week. Barring accidents, all the fish will be delivered within 24 hours of the time it was auctioned on the dockside.
Grimsby has 10 trunk vehicles carrying to Birmingham, Manchester, Nottingham, Dunstable, Stowmarket, Norwich, Wisbech, Leeds, Sheffield, Exeter and Darlington. Four more units are outbased at Lincoln, to cover Wrexham, Stoke, Bristol and Brentford and there are two more at Peterborough to cover Maidstone and Brighton. The Rugby depot has three trunk vehicles running to Poole, Oxford, Gloucester, Cardiff and Southampton.
Cutting dead mileage
The outbasing of trunk vehicles has permitted a reduc tion in mileage compared wit the original system.
Mr Paull said that althoug in practice the location of tt roadheads (based on existin BRS depots) had proved to t almost ideal, the flexibility contract vehicles allowed thei to be moved at will to .su demand. The re-allocation c • vehicles is in fact discusse at a monthly meeting .betwee BRS staff at head office an local level 'and GFMA official With a fleet covering 61/21 miles per year, maximum vi hic'le utilisation is vital. Th outstationing of :trunk vehick at depots other than Grimsb (initially all trunk runs startE from Grimsby) has helpe reduce dead mileage. For e3 ample a Peterborough vehicl picks up trunk loads froi Grimsby for Peterboroug depot, at Peterborough change-over night man talo over the vehicle, delivers ti fish to Maidstone and returr the empty vehicle to Pete borough. The van is the washed ou't 'by the day ma who takes it up to Grimsby t collect the next consignmen One-way empty running virtually inevitable as it is nt possible to carry Other con modifies in vehicles used o this type of 'traffic.
However, on some trun services, return loads can t found. The Exeter vehicle ofte returns with mackerel firm Brixhatn, eels have also bee carried as return loads. Shel fish are also collected dail from King's Lynn by one c the Peterborough vehicles an distributed via the network tt same night.
Another example is that c the Darlington trunk: the vs hide is met at Darlington t a Newcastle-based vehlicl which picks up fish for cu tomers in 'the Newcastle arc rather than running the Grim by vehicle extra mileage wit a part load. Fish for the Lalt District and Cumbria is ah distributed from this roadheal
Three-legged service
The Exeter trunk run whic starts at Grimsby is in far a three-legged service. T1 Grimsby driver takes tit loaded vehicle only as far 't Evesham where he exchangE trailers with an Exeter drivi and returns to Grimsby. T1 Exeter man returns, via Bridi water where he makes a dro to Exeter, timed to arrive the depot at 12.30am. Anotht driver then makes the deli' eries down as far as St Austt with ,'the trunk vehicle ar returns to Exeter. e precise timekeeping of runkers' loading and timed race of departures originat Grim:shy is maintained long the route, while ars at the roadheads are also in order to ensure contiof transfer to the local cry vehicles.
.pid transfer of the load trunker to delivery ve is aided by the use of ym-built bodywork. The ht Bonallack boxvan trailwhich are insulated rather refrigerated, have several doors as well as rear s and up to eight smaller ery vehicles can load ltaneously. To prevent aps during loading/unloadthe route number allocated tech consignment at Grimsfollows that particular r right through to the end s journey.
1 the vehicles 'have drain nels in the floor, leading collecting tanks under the • which will hold up to litres (300 gal) of accumulsludge of fish scales and • r.
a FG diStribution units alloy dropside bodywork up by the BRS Sheffield :shops from commercially able extruded sections. platform is marine-quality faced with a grp non-slip ng. Corrosion does not ar to present any great lems, indeed the distribuvehicle bodywork has a :ctly satisfactory life of years and some vehicles low on their second chasThis is probably due to lar washing—with fish c, cleanliness assumes •an 'Mance undreamt of by operators. The vehicle reliability record has been extremely good considering the high mileages. In the event of a breakdown it is a rule that attending fitters take along a spare tractive unit (the trailers rarely give any trouble) to see the load on its way if 'the fault is likely to take more than a few minutes to correct.
Vehicle replacement
The GFMA contract is an ongoing one whereby BRS undertakes to purchase the necessary purpose-built vehicles and run them in the Association's colours. For replacement purposes vehicle life is calculated on a basis of five years for the Guy and Seddon trunk vehicles and three years for the lighter FG-based distribution vehicles.
At present BRS has a schedule in hand to replace 86 distribution vehicle chassis.
Despite the preference shown by some operators for ,Continental vehicles Mr J. T. Horrocks, Grimsby depot manager, told me he was perfectly satisfied with the performance of his British built units.
Grimsby is not ideally situated for motorway access, for example the Birmingham trunk does not use the motorway at all, and the trunkers which do use the motorways have to rurt over some 80km (50 miles) of typical English roads before reaching the nearest motorways. Even 'so Mr Horrocks told me that the fuel consumption of the Rolls-Royce Eagle diesel engines in the tractive units was .averaging about 40 1/100km (7mpg) and oil consumption was 0.17 litres per 100km (1 pint per 200 miles).
Tags
Locations
:
Manchester
,
Wrexham
,
Brentford
,
Exeter
,
Poole
,
Dunstable
,
Lincolnshire
,
Darlington
,
Cambridge
,
Cardiff
,
Southampton
,
Norwich
,
Leeds
,
St Austell
,
Sheffield
,
South Humberside
,
Nottingham
,
London
,
Birmingham
,
Stowmarket
,
Bristol
,
Lincoln
,
Wisbech
,
Stoke
,
Gloucester
,
Oxford
,
Newcastle