Q During heavy rain I dipped headlights beca I understand that
29th August 1975
Page 29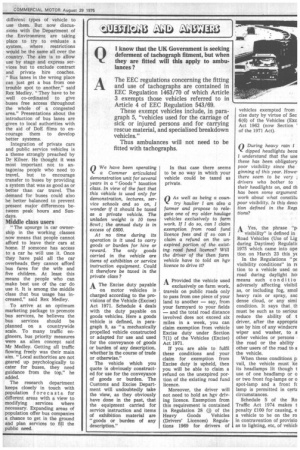 Page 29, 29th August 1975 —
Q During heavy rain I dipped headlights beca I understand that
Close
the use these has been obligatory poor visibility since the ginning of this year. Howe, there seem to be very drivers who bother to their headlights on, and th has been some argument work about what constitu poor visibility. Is this desci tion defined in the Regt tions?
A Yes, i the phrase "p visibility" s defined in Road Vehicles (Use of Lig during Daytime) Regulatic 1975 which came into ope tion on March 23 this yE In the Regulations "PC visibility conditions" in rE tion to a vehicle used on road during daylight ho' means such condi t io adversely affecting visihil as, or including fog, smol heavy rain or spray, sno dense cloud, or any simi condition. It says that th must be such as to serioth reduce the ability of t driver, after the appropris use by him of any windscre wiper and washer, to s other vehicles or persons the road or the ability other users of the road to s the vehicle.
When these conditions p: vail, the vehicle must ke its headlamps lit though t use of one headlamp or o or two front fog-lamps or o spot-lamp and a front fc lamp is permitted in certE circumstances.
Schedule 5 of the Ro Traffic Act 1974 makes t penalty £100 for causing, e a vehicle to be on the ro in contravention of provisio as to lighting, etc, of vehicli