"raditional ustoms
29th August 1975
Page 26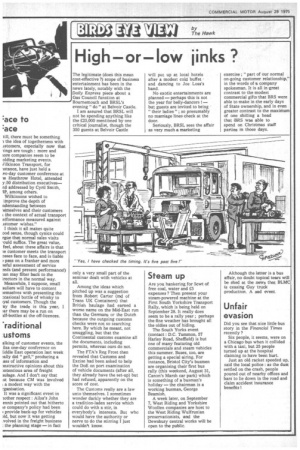 Page 26, 29th August 1975 —
"raditional ustoms
Close
alking of customer events, the ilsa one-day conference on fiddle East operation last week :ally did " geIl," producing a ass of information and matructive opinions about this mtentious area of freight village. And I don't say that .st because CM was involved . a modest way with the gatrisation.
It was a significant event in aather respect : Ailsa's John ennis pointed out that hitherto Le company's policy had been provide back-up for vehicles ad, but now it was getting .volved in the freight business : the planning stage — in fact only a very small part of the seminar dealt with vehicles at all.
Among the ideas which pitched up was a suggestion from Robert Carter (md of Trans UK Containers) that British haulage had earned a worse name on the Mid-East run than the Germans or the Dutch because the outgoing customs checks were not so searching here. By which he meant, not smuggling, but that the Continental customs examine all the documents, including permits, whereas ours do not.
The FTA's Reg Frost then revealed that Customs and Excise had been asked to help the DoE on port examination of vehicle documents (after all, they already have the set-up) but had refused, apparently on the score of cost.
• The Customs really are a law unto themselves. I sometimes wonder darkly whether they are a tradition-laden service which could do with a stir, in everybody's interests. But who would have the authority or nerve to do the stirring I just wouldn't know.