High—or—low iinks ?
29th August 1975
Page 26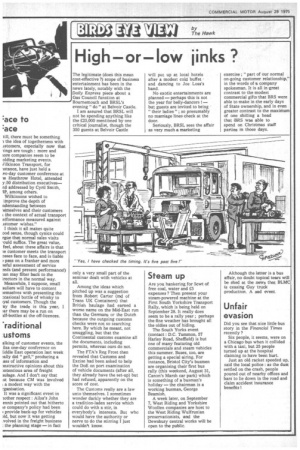 Page 26, 29th August 1975 —
High—or—low iinks ?
Close
The legitimate (does this mean cost-effective ?) scope of business entertainment has been in the news lately, notably with the Daily Express piece about a Gas Council function at
Bournemouth and BRSL's evening " do " at Belvoir Castle. I am assured that BRSL will not be spending anything like the £25,000 mentiCined by one critical journalist, though the 350 guests at Belvoir Castle will put up at local hotels after a modest cold buffetand dancing to Joe Loss's band.
No exotic entertainments are planned — perhaps this is not the year for belly-dancers ! — but guests are invited to bring "their ladies" ; so presumably no marriage lines check at the door.
Seriously, BRSL sees the affair as very much a marketing exercise ; "part of our normal on-going customer relationship," in the words of a company spokesman. It is all in great contrast to the modest commercial gifts that BRS were able to make in the early days of State ownership, and in even greater contrast to the maxinarm of one shilling a head that BRS was able to spend on Christmas staff parties in those days.