;laze hero wins wavery award
29th August 1975
Page 20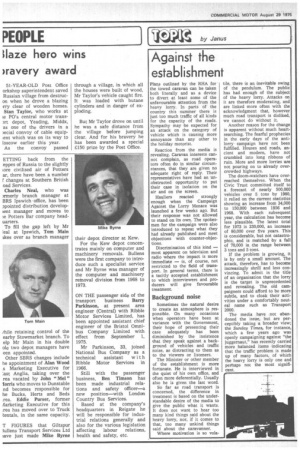 Page 20, 29th August 1975 —
;laze hero wins wavery award
Close
51-YEAR-OLD Post Office orkshop superintendent saved Russian village from destrucon when he drove a blazing Try clear of wooden homes. Stan Taylor, who works at ie PO's central motor trans)rt depot, Yeading, Middx, as one of the drivers in a )ecial convoy of cable equip.ent which was on its way to ioscow earlier this year.
As the convoy passed ETTING back from the eppes of Russia to the slightly tore civilised air of Potters ar, there have been a number I changes at Southern British oad Services.
Charles Neal, who was rmerly branch manager at BRS Ipswich•office, has been apointed distribution developtent manager and moves to le Potters Bar company headuarters.
To fill the gap left by Mr real at Ipswich, Tom Main Ikes over as branch manager ?bile retaining control of the earby Stawmarket branch. To elp Mr Main in his double ale two depot managers have een appointed.
Other SBRS changes include he appointment of Alan Wood s Marketing Executive for :ast Anglia, taking over the rea vacated by John " Mel " fortis who moves to Dunstable nd becomes responsible for he Bucks, Herts and Beds .rea. Eddie Purser, former flarketing Executive for this .rea has moved over to Truck tentals, in the same capacity.
T FIGURES that Giltspur lullens Transport Services Ltd lave just made Mike Byrne through a village, in which all the houses were built of wood, Mr Taylor's vehicle caught fire. It was loaded with butane cylinders and in danger of exploding.
But Mr Taylor drove on until he was a safe distance from the village before jumping clear. And for his bravery he has been awarded a special £150 prize by the Post Office.
their depot director at Kew.
For the Kew depot concentrates mainly on computer and machinery removals. Bullens were the first company to introduce such a specialist service and Mr Byrne was manager of the computer and machinery reinoval division from 1968 to 1973.
ON THE passenger side of the transport business Barry Parkinson, at present area engineer (Central) with Ribble Motor Services Limited, has been appointed assistant chief engineer of the Bristol Omnibus Company Limited with effect from September 1, 1975.
Mr Parkinson, 33, joined National Bus Company as a technical assistant with Ribble Motor Services in 1966.
Still with the passenger business, Ben Timson has been made industrial relations and safety officer—a new position—with London Country Bus Services.
Based at the company's headquarters in Reigate he will be responsible for industrial relations generally and also for the various legislation affecting labour relations, health and safety, etc.