A battery of electrics for the Post Office
29th August 1975
Page 19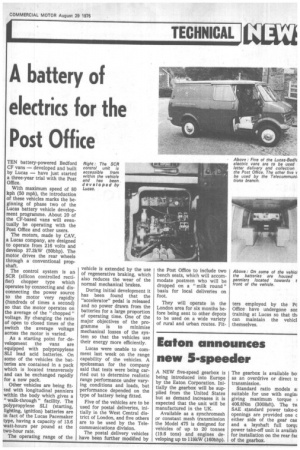 Page 19, 29th August 1975 —
A battery of electrics for the Post Office
Close
TEN battery-powered Bedford CF vans — developed and built by Lucas — have just started a three-year trial with the Post Office.
With maximum speed of 80 kph (50 mph), the introduction of these vehicles marks the beginning of phase two of the Lucas battery vehicle development programme. About 20 of the CF-based vans will eventually be operating with the Post Office and other users.
The motors, made by CAV, a Lucas company, are designed to operate from 216 volts and develop 37.3kW (50bhp). The motor drives the rear wheels through a conventional propshaft.
The control system is an SCR (silicon controlled rectifier) chopper type which operates by connecting and disconnecting the power source to the motor very rapidly (hundreds of times a second) so that the motor operates on the average of the " chopped " voltage. By changing the ratio of open to closed times of the switch the average voltage across the motor is varied.
As a starting point for development the vans are equipped with polypropylene SLI lead acid batteries. On some of the vehicles the batteries are contained in a pack which is located transversely and can be exchanged rapidly for a new pack.
Other vehicles are being fitted with longitudinal panniers within the body which gives a " walk-through " facility. The polypropylene SLI (starting, lighting, ignition) batteries are in fact of the Lucas Pacemaker type, having a capacity of 13.6 watt-hours per pound at the two-hour rate.
The operating range of the vehicle is extended by the use of regenerative braking, which also reduces the wear of the normal mechanical brakes.
During initial development it has been found that the "accelerator" pedal is released and no power drawn from the batteries for a large proportion of operating time. One of the major objectives of the programme is to minimise mechanical losses of the system so that the vehicles use their energy more efficiently.
Lucas were unable to comment last week on the range capability of the vehicles. A spokesman for the company said that tests were being carried out to determine realistic range performance under varying conditions and loads, but performance depended on the type of battery being fitted.
Five of the vehicles are to be used for postal deliveries, initially in the West Central district of London, and five others are to be used by the Telecommunications division.
The postal delivery vehicles have been further modified by the Post Office to include two bench seats, which will accommodate postmen who will be dropped on a "milk round" basis for local deliveries on foot.
They will operate in the London area for six months before being sent to other depots to be used on a wide variety of rural and urban routes. Fit