Protest over moonlight drivers
29th August 1975
Page 16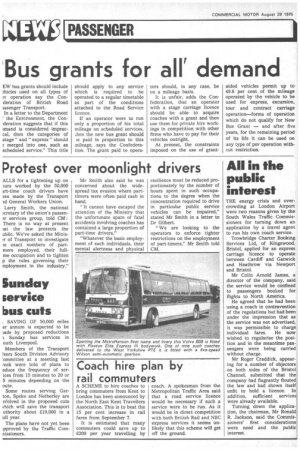 Page 16, 29th August 1975 —
Protest over moonlight drivers
Close
ALLS for a tightening up on purs worked by the 50,000 xrt-time coach drivers have ?en made by the Transport 'id General Workers Union. Larry Smith, the national ?cretary of the union's passen?r services group, told CM: There is no way at present iat the law protects the Liblic. We've asked the Minis?r. of Transport to investigate le exact numbers of partmers employed, their fullme occupation and to tighten p the rules governing their mployment in the industry." Mr Smith also said he was concerned about the widespread tax evasion where parttimers were often paid cash in hand.
"It cannot have escaped the attention of the Ministry that the unfortunate spate of fatal accidents involving coaches has contained a large proportion of part-time drivers."
"Whatever the basic employment of such individuals, their mental alertness and physical resilience must be reduced proportionately by the number of hours spent in such occupations to the degree when the concentration required to drive in particular public service vehicles can be impaired," stated Mr Smith in a letter to Dr Gilbert.
"We are looking to the operators to enforce tighter restrictions on the employment of part-timers," Mr Smith told CM.