Bus grants for all' demand
29th August 1975
Page 16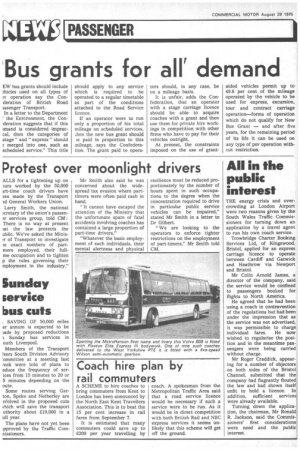 Page 16, 29th August 1975 —
Bus grants for all' demand
Close
EW bus grants should include ?hicles used on all types of iv operation say the Conderation of British Road issenger Transport.
In a letter to the Department the Environment, the Conderation suggests that if this ?mand is considered impraccal, then the categories of stage" and " express " should ? merged into one, such as scheduled service." This title should apply to any service which is required to be operated to a regular timetable as part of the conditions attached to the Road Service licence.
If an operator were to run only a proportion of his total mileage on scheduled services, ,hen the new bus grant should )e paid in proportion to this mileage, says the Confederation. The grant paid to opera tors should, in any case, be on a mileage basis.
It is unfair, adds the Confederation, that an operator with a stage carriage licence should be able to acquire coaches with a grant and then use them for private hire workings in competition with other firms who have to pay for their vehicles outright.
At present, the constraints imposed on the use of grant aided vehicles permit up to 49.8 per cent of the mileage operated by the vehicle to be used for express, excursion, tour and contract carriage operation—forms of operation which do not qualify for New Bus Grant — and after five years, for the remaining period of •its life it can be used on any type of psv operation without restriction.