SHORT HAULS
29th August 1975
Page 13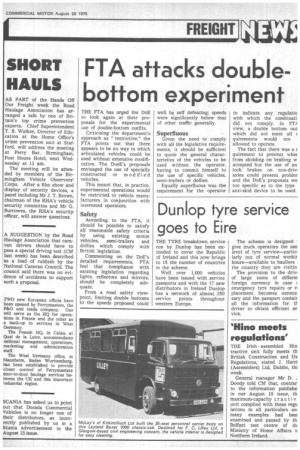 Page 13, 29th August 1975 —
SHORT HAULS
Close
AS PART of the Hands Off Our Freight week the Road Haulage Association has arranged a talk by one of Britain's top crime prevention experts. Chief Superintendent T. B. Walker, Director of Education at the Home Office's crime prevention unit at Stafford, will address the meeting at Perry Bar, Birmingham, Post House Hotel, next Wednesday at 11 am.
The meeting will be attended by members of the Birmingham Vehicle Observers' Corps. After a film show and display of security devices, a panel including Mr J. T. Brown, chairman of the RHA's vehicle security committee and Mr G. Burrowes, the RHA's security officer, will answer questions.
A SUGGESTION by the Road Haulage Association that caravan drivers should have to pass a special driving test (CM last week) has been described as a load of rubbish by the National Caravan Council. The council said there was no evidence of accidents to support such a proposal.
TWO new European offices have been opened by Ferrymasters, the P&O unit loads company. One will serve as the HQ for operations in France and the other as a back-up to services in West Germany.
The French HQ, in Calais at Quai de la Loire, accommodates national management, operations, marketing and administration staff.
The West Germany office, in Mannheim, Baden Wurttemberg, has been established to provide closer control of Ferrymasters door-to-door haulage services between the UK and this important industrial region.
SCANIA has asked us to point out that Dorada Commercial Vehicles is no longer one of their distributors, as incorrectly published by us in a Scartia advertisement in the August 15 issue.