FTA attacks double bottom experiment
29th August 1975
Page 13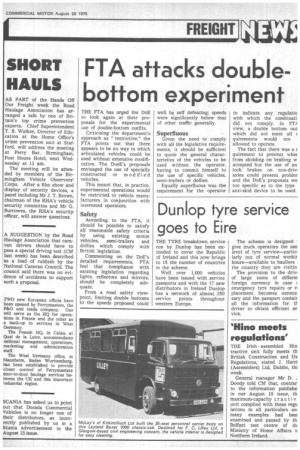 Page 13, 29th August 1975 —
FTA attacks double bottom experiment
Close
THE FTA has urged the DoE to look again at their proposals for the experimental use of double-bottom outfits.
Criticising the department's approach as " restrictive," the FTA points out that there appears to be no way in which articulated vehicles could be. used without extensive modification. The DoeE's proposals envisaged the use of specially constructed or m o d if i e d vehicles.
This meant that, in practice, experimental operations would be restricted to vehicle manufacturers in conjunction with interested operators.
Safety
According to the FTA, it should be possible to satisfy all reasonable safety criteria by using existing motor vehicles, semi-trailers and dollies which comply with British legislation.
Commenting on the DoE's detailed requirements, FTA feel that compliance with existing legislation regarding lights, reflectors and mirrors, should be completely adequate.
From a road safety viewpoint, limiting double bottoms to the speeds proposed could well be self defeating; speeds were significantly below that of other traffic generally.
Superfluous
Given the need to comply with all the legislative requirements, it should be sufficient to quote the general characteristics of the vehicles to be used without the operator, having to commit himself to the use of specific vehicles, semi-trailers or dollies.
Equally superfluous was the requirement for the operator to indicate any regulatio with which the combinati did not comply. In Fie view, a double bottom out which did not meet all z quirements would not allowed to operate.
The fact that there was a quirement to prevent wheE from skidding on braking w accepted but the use of an lock brakes on non-drivi axles could present probler and the DoE's proposals we too specific as to the type anti-skid device to be used.