Correspondence.
29th August 1907
Page 13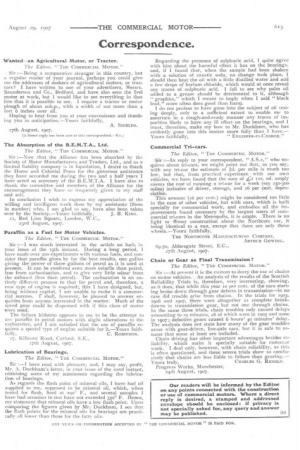 Page 13, 29th August 1907 —
Correspondence.
Close
Wanted-an Agricultural Motor, or Tractor.
The Editor, " THE COMMERCIAL MOTOR."
Sir :—Being a comparative stranger in this country, but a regular reader of your journal, perhaps you could give me the addresses of makers of agricultural motors, or tractors? I have -written to one of your advertisers, Messrs. Saunderson and Co., Bedford, and have also seen the Ivel motor at work, but I would like to see everything in that line that it is possible to see. I require a tractor or motor plough of about 2oh.p., with a width of not more than 4 feet 6 inches over all.
Hoping to hear from you at your convenience and thanking you in anticipation.—Yours faithfully,
A. SHIELDS.
27th August, 1907.
[A direst reply has been sent to this corresponilent.--F,I).
The Absorption of the B.E.M.T.A., Ltd.
The Editor, "THE COMMERCIAL MOTOR."
Sir :—Now that the Alliance has been absorbed by the Society of Motor Manufacturers and Traders, Ltd., and as a limited liability company is in liquidation, I desire to thank the Home and Colonial Press for the.g-enerous assistance they have accorded me during the two and a half years I have acted as secretary of the B,E.M.T.A. I have also to thank the committee and members of the Alliance for the encouragement they have so frequently given to my staff and self.
In conclusion I wish to express my appreciation of the willing and intelligent work done by my assistants (three in number) who, I am glad to say, have also been taken
over by the Society.—Yours faithfully, J. B. KING. 1 1, Red Lion Square, London, W.C., 23rd August, 1907.
Paraffin as a Fuel for Motor Vehicles.
The Editor, "THE COMMERCIAL MOTOR."
Sir :—I was much interested in the article on fuels in you: issue of the 15th instant. During a long period, I have made over 200 experiments with various fuels, and consider that paraffin gives by far the best results, one gallon giving the power of three gallons of petrol as it is used at present. It can be rendered even more volatile than petrol, free from carbonisation, and to give very little odour from the exhaust (less than petrol). The carburation is an entirely different process to that for petrol and, therefore, a new type of engine is required ; this I have designed, but, being without capital, I am unable to make it a commercial success. r shall, however, be pleased to answer enquiries from anyone interested in the matter. Much of the speed gear could be dispensed with if this class of motor were used.
The failure hitherto appears to me to be the attempt to use paraffin in petrol motors with slight alterations to the carburetter, and I am satisfied that the use of paraffin requires a special type of engine suitable for it.—Yours faith fully, C. ROBINSON. 27, Killearn Road, Catford, S.F., 17th August, 1907, Lubrication of Bearings.
The Editor, " THE COMMERCIAL MOTOR."
Sir have read with pleasure, and, I may say, profit, Mr. A. Duckham's letter, in your issue of the 22nd instant, criticising some of my statements regarding the lubrication of bearings.
As regards the flash point of mineral oils, I have had oil supplied to me, supposed to be mineral oil, which, when tested for flash, fired at 29o' F., and several samples I have had occasion to test have not exceeded 3500 F. Hence, my statement that mineral oils have a low flash point. Upon comparing the figures given by Mr. Duckham, I see that the flash points for the mineral oils for bearings are practically all lower than those for the fatty oils.
Regarding the presence of sulphuric acid, I quite agree with him about the harmful effect it has on the bearings, and, if I found that, when the sample had been shaken with a solution of caustic soda, no change took place, I should then heat the oil with a little distilled water and add a few drops of barium chloride, which would at once reveal any traces of sulphuric acid. I fail to see why palm oil added to a grease should be detrimental to it, although " graphite," which I meant to imply when I said "black lead," more often does good than harm.
I do not profess to have gone into the subject of oil testing deeply, only to a sufficient extent to enable me to ascertain in a rough-and-ready manner any traces of impurities likely to have any ill effect on the bearings, and I must, therefore, make my bow to Mr. Duckham, who has evidently gone into this matter more fully than I have.—
Yours faithfully, ENGINEF.R-IN-CHARGE."
Commercial Tr-cars.
The Editor, "THE COMMERCIAL MOTOR."
Sir :—In reply to your correspondent, " A.S.2," who enquires about tri-cars, we might point out that, as you say, with any tri-car the estimate of -.Id. per mile is much too low, but that, from practical experience with our own
vehicles, we have found that the sum of 125, od. amply covers the cost of running a tri-car for a week (say 250-300 miles) inclusive of driver, storage, and 16 per cent. depreciation.
This amount (i6 per cent.) might be considered too little in the case of other vehicles, but with ours, which is built specially for commercial work, and embodies all the improvements found necessary by the largest users of commercial tri-cars in the Metropolis, it is ample. There is no light or flimsy construction about the Northcote car, it being identical to a van, except that there are only three wheels.—Yours faithfully, THE NORTHCOTE MANUFACTURING COMPANY, ARTHUR GOWING. 69-70, Aldersgate Street, E.C., 27th August, 1907.
Chain or Gear as Final Transmission?
The Editor, "THE COMMERCIAL MOTOR."
Sir :—At present it is the custom to decry the use of chains on motor vehicles. An analysis of the results of the Scottish Reliability Trials is, therefore, very interesting, showing, as it does, that while this year to per cent, of the cars starting broke down through gear defects in transmission—in no
did trouble arise from chains. In the trials for 1903, zgo6 and 1907, there were altogether 21 complete breakdowns in transmission gear, but not one through chains. In the same three trials, chain troubles only caused delays amounting to 29 minutes, 28 of which were in 1903 and none in 1907; defective gears caused 6 hours' 40 minutes' delay. The analysis does not state how many of the gear troublesarose with gear-driven, live-axle cars, but it is safe to assume that some at least are included.
Chain driving has other important advantages besides reliability, which make it specially suitable for motorcar work. I deal only, however, with chain reliability, as this is often questioned, and these severe trials show so conclusively that chains are less liable to failure than gearing.—
Yours truly, CHARLES G. RENOLD. Progress Works, Manchester, 24th August, 1907.