Groceries in New Milk Floats
28th October 1955
Page 45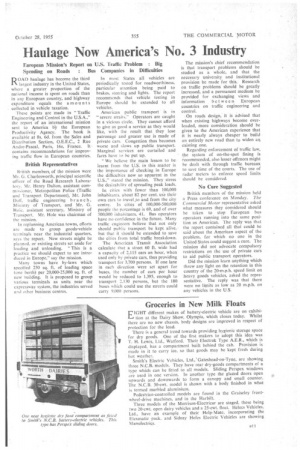 Page 45, 28th October 1955 —
Groceries in New Milk Floats
Close
EIGHT different makes of battery-electric vehicle are on exhibition at the Dairy Show, Olympia, which closes today. Whilst there are no new chassis, body designs are improved in respect of protection for the load.
There is a general trend towards providing hygienic storage space for dry goods. One of the first makers to adopt this idea was T. H. Lewis, Ltd., Watford. Their Electruk Type A.E.R., which is displayed, has a compartment built behind the cab. Provision is made in it to carry ice, so that goods may be kept fresh during hot weather.
Smith's Electric Vehicles, Ltd.,' Gateshead-on-Tyne, are showing three N.C.B. models. They have rear dry-goods compartments of a type which can be fitted to all models. Sliding Perspex windows are used in one version. In another type the glazed doors open upwards and downwards to form a canopy and small counter. The N.C.B. 30-cwt. model is shown with a body finished in what Is termed marbled aluminium.
Pedestrian-controlled models are found in the Graiselcy front wheel-drive machines. and in the Harbilt. .
Three models of the Morrison-Electricar are staged, these being two 20-cwt. open dairy vehicles and a 25-cwt. float. Helecs Vehicles, Ltd., have an example of their Help-Mate, incorporating the Elexmatic pack. and Sidney Holes Electric Vehicles are showing Manulectriqs.