Motorcab Topics.
28th October 1909
Page 7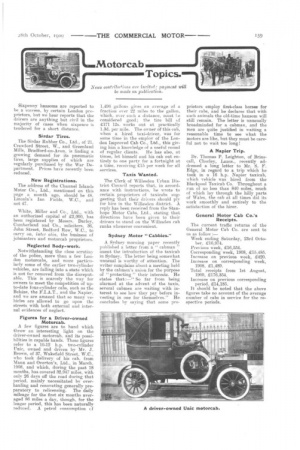 Page 7, 28th October 1909 —
Motorcab Topics.
Close
ews contributions or" inriteel : payment will be made on publication.
Sixpenny hansoms are reported to be a success, by certain London proprietors, but we hear reports that the drivers are anything but civil in the majority of cases when sixpence is tendered for a short distance.
Si rda r Tires.
The Sirdar Rubber Co., Ltd., of 21, Crawford Street, W., and Greenland Mills, Bradford-on-Avon, is finding a growing demand for its pneumatic tires, large supplies of which are regularly purchased by the War Department. Prices have recently been reduced.
New Registrations.
The address of the Channel Islands Motor Co., Ltd., mentioned on this page a month ago, should be 48, Lincoln's Inn Fields, W.C., and not 47.
White, Miller and Co., Ltd., with an authorized capital of £2,000, has been registered by Messrs. Darley, Cumberland and Co., solicitors, 36, John Street, Bedford Row, W.C., to carry on, inter aim, the business of jobmasters and motorcab proprietors.
Neglected Body-work.
Notwithstanding the close scrutiny of the police, more than a few London rnotorcabs, and more particularly some of the earlier two-cylinder vehicles, are falling into a state which is not far removed from the disreputable. This is scarcely the way for owners to meet the competition of upto-date four-cylinder cabs, such as the Belsize, the F.I.A.T., and the Napier. and we are amazed that so many vehicles are allowed to go upon the streets with both external and internal evidences of neglect.
Figures for a Driver-owned Motorcab.
A few figures are to hand which throw an interesting light on the driver-owned motorcab, and its possibilities in capable hands. These figures refer to a 10-12 lt.. two-cylinder Unic, owned and driven by Mr. J. Brown, of 37, Wakefield Street, W.C., who took delivery of his cab, from Mann and Overton's, Ltd., in March, 1908, and which, during the past 18 months, has covered 32,947 miles, with only 26 days off the road during that period, mainly necessitated by overhauling and renovating generally preparatory to relicensing. The daily mileage for the first six months averaged 86 miles a day, though, for the longer period, this has been naturally reduced. A petrol consumption if 1,496 gallons gives an average of a fraction over '22 miles to the gallon, which, over such a distance, must Le considered good ; the tire bill of £171 12s. works out at practically 1.3d. per mile. The owner of this cab, when a hired taxi-driver, was for some time in the employ of the London Improved Cab CO., Ltd., this giving him a knowledge of a useful round of regular clients. He has also, at times, let himself and his cab out entirely to one party for a fortnight at a time, receiving £15 per week for all services.
Taxis Wanted.
The Clerk of Willesden Urban District Council reports that, in accordance with instructions, he wrote to certain proprietors of taxicabs suggesting that their drivers should ply for hire in the Willesden district. A reply has been received from the Stanhope Motor Cabs, Ltd., stating that directions have been given to their drivers to stand on the Willesden cab ranks whenever couvenient.
Sydney Motor "Cabbies.'
A Sydney morning paper recently published a letter from a " cabman " anent the introduction of the taxicab in Sydney. The letter being somewhat unusual is worthy of attention. The writer complains about a meeting held by the cabmen's union for the purpose of " protecting " their interests. He states that :—" So far from being alarmed at the advent of the taxis, several cabmen are waiting with interest to see how they pay before investing in one for themselves." He concludes by saying that some pro
prietors employ first-class horses for their cabs, and he declares that with such animals the old-time hansom will still remain. The letter is unusually broadminded for a cabman, and the men are quite justified in waiting a reasonable time to see what the motors are like, but they must be careful not to wait too long!
A Napier Trip.
Dr. Thomas P. Leighton, of Brinscall, Chorley, Lancs., recently addressed a long letter to Mr. S. F. Edge, in regard to a trip which he took in a 16 h.p. Napier taxicab, which vehicle was hired from the Blackpool Taxicab Co. Throughout a run of no less than 840 miles, much of which lay through the hilly parts of Wales, tfie cab at all times did its work smoothly and entirely to the satisfaction of the hirer.
General Motor Cab Co.'s Receipts.
The current traffic returns of the General Motor Cab Co. are sent to us as follow :— Week ending Saturday, 23rd October, £16,974.
Previous week, £18,554.
Corresponding week, 1908, £15,485. Increase on previous week, £420. Increase on corresponding week, 1908, £1,489.
Total receipts from 1st August, 1909, 2176,354.
Increase on previous corresponding period, £14,185. It should be noted that the above figures take no account of the average number of cabs in service for the respective periods.