Motorvan versus Hoarding.
28th October 1909
Page 4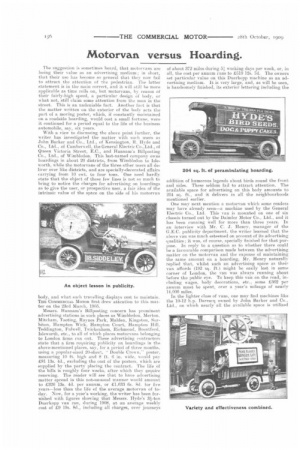 Page 5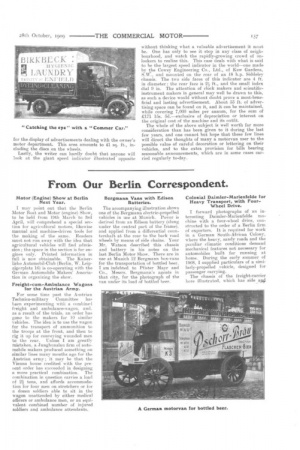 Page 4, 28th October 1909 —
Motorvan versus Hoarding.
Close
The suggestion is sometimes heard, that motarvans are lasing their value as an advertising medium ; in short, that their use has become so general that they now fail to attract the attention of the pedestrian. The latter statement is in the main correct, and it will still he more applicable as time rolls an, hut motorvans, by reason of their fairly-high speed, a particular design of body, or what not, still claim some attention from the man in the street. This is an undeniable fact. Another fact is that the matter written on the exterior of the body acts the part of a moving poster, which, if constantly maintained on a roadside hoarding, would cost a small fortune, were it continued for a period equal to the life of the business automobile, say, six years.
With a view to discussing the above point further, the writer has investigated the matter with such users as John Barker and Co., Ltd., of Kensington, R. Hyde and Co., Ltd., of Camberwell, the General Electric Co. Ltd., of Queen Victoria Street, E.C., and H.annam%s Billpasting Co., Ltd., of Wimbledon. This last-named company owns hoardings in about 20 districts, from Wimbledon to Isleworth, while the motorvans of the three other users all deliver over like districts, and are specially-decorated affairs carrying from 10 cwt. to four tons. One need hardly state that the object of these few lines is not so much to bring to notice the charges for advertising an hoardings as to give the user, or prospective user, a fair idea of the intrinsic value of the space on the side of his motorvan
body, and what such travelling displays cost to maintain. THE COMMERCIAL MOTOR first drew attention to this matter on the 23rd March, 1905.
Messrs. Hannam's Billposting concern has prominent advertising stations in such places as Wimbledon, Merton. Mitcham, Tooting, Raynes Park, Malden, Kingston, SU!, bitnn, Hampton Wick, Hampton Court, Hampton Hill, Teddington, Fulwell. Twickenham, Richmond, Brentford, Isleworth, etc., to all of which places matorvans belonging to London firms run out. These advertising contractors state that. a firm requiring publicity on hoardings in the above-mentioned plaues. say, for a period of three months, using a popular-sized 20-sheet, " Double Crown,poster, measuring 10 ft. high and 8 ft. 6 in. wide, would pay las. 44., excluding the cost of the posters, which are supplied by the party placing the contract. The life of the bills is roughly four weeks, after which they equire renewing. The reader will see that to have advertising matter spread in this not-unusual manner would amount to £320 13s. 4c1.. per annum, or L'1,633 6s. 8d. for five years—less than the life of the average. motorvan of today. Now, for a year's working, the writer has been furnished with figures showing that Messrs. Hyde's 31-ton Duerkopp van ran, during 1908, at an average weekly cost of £9 19s. Bd., including all charges, over journeys
of about 372 miles during working days per week, or, in
all, the cost per annum runs to £519 12s. 7d. The owners set particular value on this Duerkapp machine as an advertising medium. It is very large, and, as will be seen, is handsomely finished, its exterior lettering including the
addition of humorous legends about birds round the front and sides. These seldom fail to attract attention. The available space for advertising on this body amounts to 204 sq. ft., and it delivers in all the neighbourhoods mentioned earlier.
One may next mention a motorvan which some readers may have already seen—a machine used by the General Electric, Co., Ltd. This van is mounted on one of six chassis turned ont by the Daimler Motor Co., Ltd., and it has been running well for more than three years. In :In interview with Mr. C. J. Henry, manager of the G.E.C. publicity department, the writer learned that the above van was much esteemed on account of its advertising qualities; it was, of course, specially finished for that purpose. In reply to a. question as to whether there could be a favourable comparison made between the advertising matter on the motor-van and the expense of maintaining the same amount on a hoarding, Mr. Henry naturally replied that, whilst such an advertising space as their van affords (192 sq, ft.) might be easily lost in some corner of London, the van was always running about before the public eye. To keep this van on the road, inchiding wages, body decorations, etc., some £102 per annum must be spent, over a year's mileage of nearly 14,000 miles.
In the lighter class of vans, one may find machines like the 10-12 h.p. Darracq awned by John Barker and Co., Ltd., on which nearly ail the available space is utilized
for the display of advertisements dealing with the owner's motor department. This area amounts to 41 sq. ft., including the discs on the wheels.
Lastly, the writer can hardly doubt that anyone will look at the giant speed indicator illustrated opposite
without thinking what a valuable advertisement it 'mist be. One has only to see it stop in any class of neighbourhood, and watch the rapidly-growing crowd of onlookers to realize this. This case deals with what is said to he the largest speed indicator in the world—one made by the Uswey Engineering Co., Ltd., of Kew Gardens, S.W., and niounted on the rear of an 18 h.p. Sidsleley chassis. The two side faces of this indicator are 4 ft. in diameter ; the rear face is 2:12ft., and the small index dial 9 in. The attention of clock makers and scientificinstrument makers in general may well be drawn to this, as such a device would without doubt prove a most-beneficial and lasting advertisement. About 55 ft. of advertising space can be found on it, and it can be maintained, while covering 7,000 miles per annum, for the sum of £171 los. 5d.—exclusive of depreciation or interest on the original cost of the machine and its outfit. The whole of the above subject is well worth far more consideration than has been given to it during the last few years, and one cannot but hope that these few lines will direct the thoughts of may a rootorvan user to the possible value of careful decoration or lettering on their vehicles, and to the extra provision for bills bearing seasonable announcements, which are in some cases carried regularly to-day.