C.M.U.A. Embankment Parade.
28th October 1909
Page 3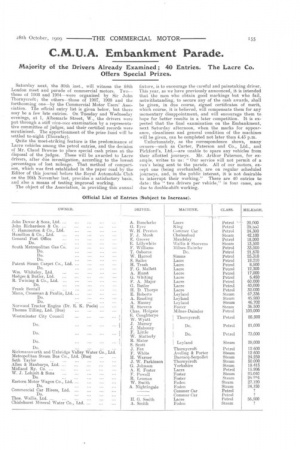 Page 3, 28th October 1909 —
C.M.U.A. Embankment Parade.
Close
Majority of the Drivers Already Examined ; 40 Entries. The Lacre Co. Offers Special Prizes.
Saturday next, the 30th inst., will witness the fifth London meet and parade of commercial motors. Twotilos° of 1903 and 1904—were organized by Sir John Thornycroft; the others—those of 1907, 1908 and the forthcomill one—by the Commercial Motor Users' Association. Tue official entry list is given below, but there may be a few late entries. On Tuesday and Wednesday evenings, at 1, Albemarle Street, W., the drivers were put through a stiff rira-roce examination by a representative committee of judges, and their certified records were scrutinized. The apportionment of the prize fund will be settled to-night (Thursday). Quite the most-striking feature is the predominance of Lacre vehicles among the petrol entries, and the decision of Mr. Claud Browne to place special cash prizes at the disposal of the judges. These will be awarded to Lacre drivers, after due investigation, according to the lowest percentages of lost mileage. That method of comparison, which was first established in the paper read by the Editor of this journal before the Royal Automobile Club on the 26th November last, provides a satisfactory basis. and also a means of testing improved working. The object of the Association, in providing this annual fixture, is to encourage the careful and painstaking driver. This year, as we have previously announced, it is intended that the men who obtain good markings hut who fail, notwithstanding, to secure any of the cash awards, shall be given, in due course, signed certificates of merit, which course, it is believed, will compensate them for any momentary disappointment, and will encourage them to hope for better results in a later competition. It is expected that the final examination on the Embankment, next Saturday afternoon, when the marks for appearance, cleanliness and general condition of the machines will be given, can be completed not later than 4.45 p.m. Unfortunately, as the correspondence shows, many owners—such as Carter, Paterson and Co., Ltd., and Pickford's, Ltd.—are unable to spare any vehicles from their allotted journeys. Mr. Arthur Paterson, for example, writes to us : " Our service will not permit of a van's being sent to the parade. All of our motors, except one (being overhauled), are on regular scheduled journeys, and, in the public interest, it is not desirable to interrupt their working." There are 40 entries to date: the "two drivers per vehicle," in four cases, are due to double-shift working.