Scotch motor spirit is, of course, largely used in its
28th October 1909
Page 15
Page 16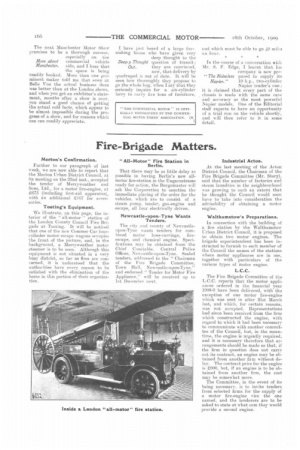 Page 15, 28th October 1909 —
Scotch motor spirit is, of course, largely used in its
Close
country of origin, but comparatively About Motor little by the Scoteli Spirit. motor makers, and for this reason' as I learnt in a conversation with Mr. Geo. H. Halley recently : a very large proportion of Scotch vehicles goes to England and abroad, and carburetters have to be adjusted to suit the spirit likely to he used hence, the lighter spirits are mostly employed in all their experiments and trials.
It was interesting to hear further from the ubiquitous head of Halley'm Industrial Motors,
Across the Ltd that he is
Seas.
greatly encouraged by orders from the Colonies and abroad : lorries and vans are being sent out to what would appear mostunlikely places, and the names of which he would not have me mention for obvious business reasons. This particillerly interests one, at this period. when our Editor has just announced an " Overseas Special " Number. which will abound in interest to manufacturers at home, as well as to readers abroad. As a matter of fact. I think I had something to do with the birth of this " Oversees " editiou. cause I have so constantly informed
our Editor, in conversations, how very steadily the demands from the Colonies were growing—largely, no doubt. as the result ot his Colonial and Foreign issues of 1905 and 1900. I hear, on every side, of the commercial-vehicle's increasing progress across the seas. Thursday, 9th December, then, should be mor.ked in red on the office calendar, and the necessary instructions will be wanted before that.
Early last week, I called in on the llritish Petroleum Co., Ltd., inquiring for Mr. John Coates,
Enterprising. and I was told he was either at Blackpool or Doncaster—they could not say which exactly. I think I shall write to them and say that lie has left some "footprints " at Blackpool, because I solemnly vow that, in all my meanderings to motor shows and Royal Shows. I never saw any speciality make a tenth the display that this company gave to "Shell Motor Spirit" during the aviation business. I don't believe
got a glimpse of the sea, much as I tried, as I drove down to the ground from the Motor Club's headquarters. because every vista, every open spot. relentlessly announced. on the familiar yellow background. " Shell Motor Spirit " and vet again "Shell Motor Spirit." to all and sundry.
All roads led to Blackpool during, last week, but, although I was hover musierous inground three sides i of t during most of Blackpool.
that time, I had to keep my nose to the grindstone and give " Blusterous Blackpool," as one paper deseribed it, a wide berth, but I went in on 6aturnay, and, from windy noon till blowy eve, the pitiless rain came down unceasingly, so that the black flag, denoting '• no flying," was the only thing I saw go rip.
A fortnight ago, while waiting for a train at Manchester to take me into the wilds of famed the Yorkshire—an interSimms' Stali. minable journey—I was pounced upon by a young friend of mine, who gaily discovered that he was bound for the same destination, and then I learned that he had left the United Motor Industries, Ltd., and had been appointed sales manager to the Simms Magneto Co., Ltd., of Kilburn. During our ride, I heard much of magneto contracts and prospects. I think the Simms people have made an excellent choice here, for all the years I have known Mr. George E. Roberts, lie has made me envious of his buoyant enthusiasm and his capacity for long spells of work at high pressure.
The next Manchester Motor Show promises to be a thorough success,
especially on tire More about commercial vehicle Manchester. side, and I hear that
the space is being readily booked. More than one prominent maker told me that even at Belle Vue the actual business done Was better than at the London shows, and when you get an exhibitor's statement, months after a show is over, you stand a good chance of getting the actual Ladd facts, which appear to be almost impossible during the progress of a show, and for reasons which one can readily appreciate.
I have just heard of a large furnishing house who have given very deep thought to the Deep.y .Thought question of transit; Out. they are convinced, now, that delivery by quadruped is out of date. It will he seen how thoroughly they propose to go the whole hog, when I say that they seriously inquire for a six-cylinder lorry to carry five tons of furniture, and %Odell must be able to go 40 wriics an Ii OUT.
In the course of a conversation with Mr. S. F. Edge, I learnt that his company is now pr"The Noiseless pared to supply its Napier."
10 h.p., two-cylinder Napier trader's van ; it is claimed that every part of the chassis is made with the same care and accuracy as the most powerful Napier models. One of the Editorial staff expects to have an opportunity of a trial run on the vehicle shortly, and will then refer to it in some detail.