Synthetic Versus Natural Glues
28th November 1952
Page 58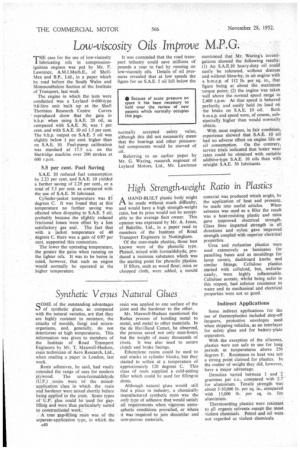 Page 58, 28th November 1952 —
Synthetic Versus Natural Glues
Close
Keywords :
Adhesives
,
Chemistry
,
Materials Science
,
Recyclable Materials
,
Dielectrics
,
Manufacturing
,
Plastic
,
Resin
,
Silicone
,
Thermosetting Plastics
,
Epoxy
,
Zytel
QOME of the outstanding advantages of synthetic glues, as compared with the natural varieties, are that they are highly resistant to moisture, the attacks of moulds, fungi and microorganisms, and, generally, do not deteriorate at high temperatures. This information was given to members of the Institute of Road Transport Engineers by Mr. T. Maxwell-Hudson, resin technician of Aero Research, Ltd., when reading a paper in London, last week.
Resin adhesives, he said, had vastly extended the range of uses for modern plywood. The urea-formaldehyde (U.F.) .resins were of the mixedapplication class in which the resin and hardener were mixed shortly before being applied to the joint. Some types of • U.F. glue could be used for gap-filling and were thus particularly 'suited to constructional work. •
A true gap-filling resin was of the separate-application type, in which the A40 resin was applied to one surface of the joint and the hardener to the other.
Mr. Maxwell-Hudson mentioned the Redux process of bonding metal to metal, and metal to other materials. In the de Havilland Comet, he observed, the process saved not only man-hours but the weight of many thousands of rivets. It was also used to secure clutch and brake facings.
Ethoxylene resins could be used to seal cracks in cylinder blocks, but they started to soften at a temperature of approximately 120 degrees C. This class of resin supplied a cold-setting filler which could be used for filling-in dents.
Although natural glues would still find a place in industry, a chemically manufactured synthetic resin was the onlY type of adhesive that would satisfy all requirements when vigorous atmospheric conditions prevailed, or where it was -required to join dissimilar and non-porous materials. Some indirect applications for the use of thermoplastics included stop-off lacquers, protective envelopes used when shipping vehicles, as an interlayer for safety glass and for battery-plate separators.
With the exception of the silicones, plastics were not safe to use for long periods at temperatures above 250 degrees F. Resistance to heat was not a strong point claimed for plastics. In the matter of weight they did, however, have a major advantage.
Densities varied between 1 and 2 grammes per QC., compared with 2.7 for aluminium. Tensile strength was about 5-10,000 lb. per sq. in., compared with 15,000 lb. per sq. in. for aluminium.
Thermosetting plastics were resistant to all organic solvents except the most violent chemicals. Petrol and oil were not regarded as violent chemicals.