A Mixed Blessing in Prospect?
28th November 1952
Page 50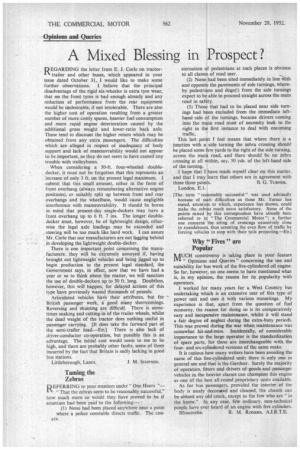 Page 50, 28th November 1952 —
A Mixed Blessing in Prospect?
Close
pp EGARDING the letter from E. J. Code on tractor" trailer and other buses, which appeared in your issue dated October 31, I would like to make some
further observations. I believe that the principal disadvantage of the rigid six-wheeler is extra tyre wear, that on the front tyres is bad enough already and any reduction of performance from the rear equipment would be undesirable, if not intolerable. There are also the higher cost of operation resulting from a greater number of more costly spares, heavier fuel consumption and more rapid engine deterioration caused by the additional gross weight and lower-ratio back axle. These tend to discount the higher return which may be obtained from any extra passengers. The difficulties which are alleged in respect of inadequacy of body support and lack of manceuvrability would not appear to be important, as they do not seem to have caused any trouble with trolieybuses.
When considering a 30-ft. four-wheeled double_ decker, it must not be forgotten that this represents an increase of only 3 ft. on the present legal maximum. I submit that this small amount, either in the form of front overhang (always remembering alternative engine positions), or suitably split up between front and rear overhangs and the wheelbase, would cause negligible interference with manceuvrability. It should be borne in mind that present-day single-deckers may have a front overhang up to 6 ft. 7 ins. The longer doubledecker must, however, be of lightweight design, otherwise the legal axle loadings may be exceeded and steering will be too much like hard work. I can assure . Mr. Code that our manufacturers are not lagging behind in developing the lightweight double-decker.
There is one important .point concerning the manufacturers: they will be extremely annoyed if, having brought out lightweight vehicles and being jigged up to begin production to the present legal standard, the Government says, in effect, now that we have had a year or so to think about. the matter, we will sanction the use of double-deckers up to 30 ft. long. Doubtless, however, this will happen, for delayed actions of this type have previously wasted thousands of pounds.
Articulated vehicles have their attributes, but for British passenger work, a good many shortcomings. Reversing and shunting are difficult. There is sometimes snaking and cutting-in of the trailer wheels, whilst the dead weight of the tractor does nothing useful in . passenger carrying. [It does take the forward part of the semi-trailer load.—Ea] There is also lack of driver-conductor co-operation, but possibly this is an advantage. The initial cost would seem to me to be high, and there are probably other faults, some of them incurred by the fact that Britain is sadly lacking in good bus stations.
Littleborough. Lancs.. J. M. SIMPSON.
Taming -the Zebras REFERRING to your mention under' " One Hears "— "That the zebras seem to be reasonably successful." how much more so would they have proved to be if attention had been paid to the following:—
(I) None had been placed anywhere near a point where a police constable directs traffic. The con81(1 sternation of pedestrians at such places is obvious to all classes of road user. (2) None had been sited immediately in line'*ith and opposite the pavements of side turnings, whereby pedestrians and dogs(!) from the side turnings expect to be able to proceed straight across the main road in safety.
(3) Those that had to be placed near side turnings had been excluded from the immediate lefthand side Of the turnings, because drivers coming into the Main road must of necessity look to the right in 1.14 first instance to deal with oncoming traffic.
This last point I feel means that where there is a junctiOn with al side turning the zebra crossing should be placed some ew yards to the right of the side turning. across the main road, and there -should be no zebra crossing at all Within, say, 50 yds. of the left-hand side of the turning. I I hope that I have made myself clear on this matter, and that I may learn that others are in agreement with these three poin s. B. G. TURNER. , London, E.I.
[The term "re onably successful" was used advisedly because of s h difficulties as those Mr. Turner has stated, attention to which, experience has shown, could make the zebras much more satisfactory. Some of the points raised by this correspondent have already been referred to in "The Commercial Motor"; a further one concerns the siting of crossings excessively close to roundabouts, thus arresting the even flow of traffic by forcing vehicles to stop with their tails projecting.—ED.]
Why " Fives " are Popular
MUCH controversy is taking place in your feature " Opinions and Queries" concerning the use and suitability for bus work of the five-cylindered oil engine. So far, however, no one seems to have mentioned what is, in my opinion, the reason for its popularity with operators.
I worked for many years for a West Country bus undertaking which is an extensive user of this type of power unit and uses it with various mountings. My experience is that, apart from the question of fuel economy, the reason for doing so is its comparatively easy and inexpensive maintenance, whilst it will stand a fair degree of neglect during the extra-busy periods. This was proved during the war when maintenance was somewhat hit-and-miss. Incidentally, of considerable importance to the large operator is the standardization of spare parts, for these are interchangeable with the fourand six-cylindered versions of the same make.
It is curious how many writers have been avoiding the name of this five-cylindered unit; there isonly one in general use and that is the Gardner. Surely the majority of operators, fitters and drivers of goods and passenger vehicles in the heavier classes can champion this engine as one of the best all-round proprietary units available.
As for bus passengers, provided the interior of the body is nicely decorated and cleaned, the chassis can be almost any old crock, except to the few who are "in the know." In any case, few ordinary, non-technical people have ever heard of an engine with five cylinders.
Ilfracombe. R. M. ROGERS, A.I.R.T.E.