Keep Rates Out of Licensing
28th November 1952
Page 47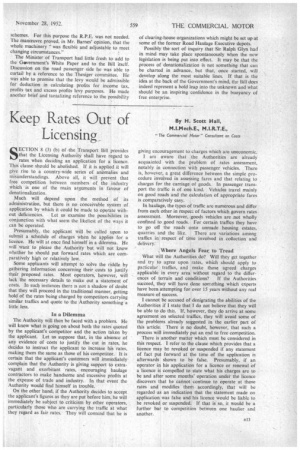 Page 47, 28th November 1952 —
Keep Rates Out of Licensing
Close
SECTION 8 (3) (b) of the Transport Bill provides that the Licensing Authority shall have regard to rates when deciding an application for a licence. This clause should be abolished. If it is applied it will give rise to a country-wide series of anomalies and misunderstandings. Above all, it will prevent that free competition between members of the industry which is one of the main arguments in favour of denationalization.
Much will depend upon the method of its administration, but there is no conceivable system of application by which it could be made to operate with out deficiencies. Let us examine the possibilities in conjunction with what seem the likeliest of the ways it can be operated.
Presumably, the applicant will be called upon to submit a schedule of charges when he applies for a licence. He will at once find himself in a dilemma. He will want to please the Authority but will not know whether he should put forward rates which are comparatively high or relatively low.
Some applicants will attempt to solve the riddle by gathering information concerning their costs to justify their proposed rates. Most operators, however, will lack the necessary details to make out a statement of costs. In such instances there is not a shadow of doubt that they will proceed in the traditional manner, getting hold of the rates being charged by competitors carrying similar traffics and quote to the Authority something a little less.
In a Dilemma The Authority will then be faced with a problem. He will know what is going on about both the rates quoted by the applicant's competitor and the action taken by the applicant. Let us suppose that, in the absence of any evidence of costs to justify the cut in rates, he decides to instruct the applicant to increase his rates, making them the same as those of his competitor. It is certain that the applicant's customers will immediately complain that the Authority is giving support to extravagant and exorbitant rates, encouraging haulage contractors to make handsome and excessive profits at the expense of trade and industry. In that event the Authority would find himself in trouble.
On the other hand, if the Authority decides to accept the applicant's figures as they are put before him, he will immediately be subject to criticism by other operators, particularly those who are carrying the traffic at what they regard as fair rates. They will contend that he is