By H. Scott Hall, M .I.M ech.E., M .1 .R.T.E.,
28th November 1952
Page 47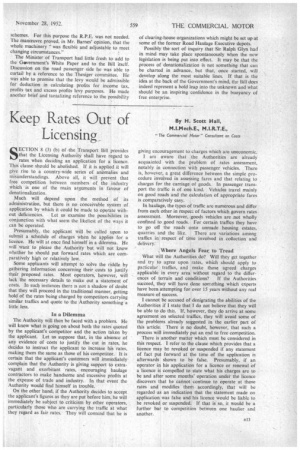 Page 47, 28th November 1952 —
By H. Scott Hall, M .I.M ech.E., M .1 .R.T.E.,
Close
The Commercial Motor" Constiltant on Costs
giving encouragement to charges which are uneconomic.
I am aware that the Authorities are already acquainted with the problem of rates assessment, notably in connection with passenger vehicles. There is, however, a great difference between the simple procedure involved in assessing fares and that relating to charges for the carriage of goods. In passenger transport the traffic is of one kind. Vehicles travel mainly on good roads and the calculation of appropriate fares is comparatively easy.
In haulage, the types of traffic are numerous and differ from each other in respect of factors which govern rates. assessment. Moreover, goods vehicles are not wholly confined to good roads. For certain traffics they have to go off the roads onto unmade housing estates, quarries and the like. There arc variations among traffics in respect of time involved in collection and delivery.
Where Angels Fear, to Tread
What will the Authorities. do? Will they get together and try to agree upon rates, which should apply to particular traffics, and make those agreed charges applicable in every area without regard to the differ
ences of terrain and conditions? If the Authorities succeed, they will have done something which experts have been attempting for over 15 years without any real measure of success.
I cannot be accused of denigrating the abilities of the Authorities if I state that I do not believe that they will be able to do this. If, however, they do arrive at some agreement on selected traffics, they will avoid some of the problems already suggested in the earlier part of this article. There is no doubt, however, that such a process will immediately put an end to free competition.
There is another matter which must be considered in this respect. I refer to the clause which provides that a licence may be revoked or suspended if any statement of fact put forward at the time of the application is afterwards shown to be false. Presumably, if an operator in his application for a licence or renewal of a licence is compelled to state what his charges are to be and after some months' operation under the licence discovers that he cannot continue to operate at those rates and modifies them accordingly, that will be regarded as an indication that the statement made on application was false and his licence would be liable to be revoked or suspended. If that is so, it would be a further bar to competition between one haulier and another.