Pioneers in Army Mechanical Transport
28th May 1929
Page 56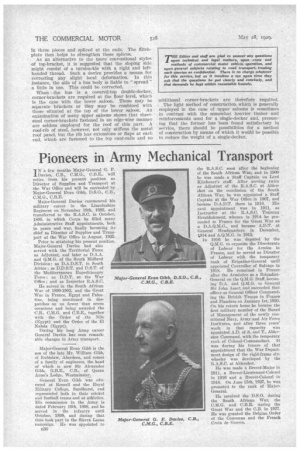 Page 56, 28th May 1929 —
Pioneers in Army Mechanical Transport
Close
TN a few months Major-General G. F. 'Davies, C.B., C.M.G., C.B.E., will retire from his present position as Director of Supplies and Transport at the War Office and will he succeeded by Major-General Evan Gibb, D.S.O., C.B., C.M.G., C.B.E.
Major-General Davies commenced his military career in the Lincolnshire Regiment on November 19th, 1892, and transferred to the R.A.S.C. in October, 1895, in which Corps he filled many Administrative Staff appointments, both in peace and war, finally becoming its chief as Director of Supplies and Transport at the War Office in August, 1925.
Prior to attaininglis present position, Major-General Davies had also served with the Territorial Force as Adjutant, and later as D.A.A. and Q.M.G. of the South Midland Division ; as D.A.D.S.T. in South Africa ; as D.D.S.T. and D.S.T. of the Mediterranean Expeditionary Force ; as D.D.T. at the War Office; and as Inspector R.A.S.C.
He served in the South African War of 1899-1902, and the Great War in France, Egypt and Palestine, being mentioned in despatches on no fewer than seven occasions and being awarded the C.B., C.M.G. and C.B.E., together with the Order of the Nile (Egypt) and the Order of the El Nahda (Egypt).
During his long Army career General Davies has seen remarkable changes in Army transport.
Major-General Evan Gibb is the son of the late Mr. William Gibb, of Rubislaw, Aberdeen, and comes of a family of engineers, the head of which is now Sir Alexander Gibb, G.B.E., C.B., of Queen Anne's Lodge, Westminster.
General Evan Gibb was educated at Rossall and the Royal Military College, Sandhurst, and represented both in their cricket and football teams and at athletics. His commission in the Army is dated February 16th, 1898, and he served in the infantry until October, 1899, and during that time took part in the Sierra Leone campaign. He was appointed to B30 the R.A.S.C. soon after the beginning of the South African War, and in 1900 he was made a Staff Captain on Lord Kitchener's staff. After serving twice as Adjutant of the R.A.S.C. at Ablershot on the conclusion of the South African War, he was appointed a Staff Captain at the War Office in 1907, and became D.A.D.T. there in 1910. His next appointment was in 1911, as Instructor at the. R.A,S.C. Training Establishment, whence in 1914 he proceeded to France for the Great War as a D.A.Q.M.G., and became A.D.T. at General Headquarters in December, 1914 and A.Q.M.G. in 1915.
In 1916 he was deputed by the Q.M.G. to organize the Directorate of Labour for the Armies in France, and he served as Director of Labour with the temporary rank of Brigadier-General until appointed Controller of Salvage in 1918. He remained in France after the Armistice as a BrigadierGeneral on the Q.M.G. Staff, becoming D.A. and Q.M.G. to General Sir John Asser, and succeeded that officer as General Officer Commanding the British Troops in France and Flanders on January 1st, 1920. On his return home he became the first military member of the Board of Management of the neWly constituted Navy, Army and Air Force Institutes, and after three years' work in that capacity was appointed A.D. of 8. and T., Aldershot Command, with the temporary rank of Colonel-Commandant. It was during his tenure of that appointment that the War Department design of the rigid-frame sixwheeler was developed by the R.A.S.C. at Aldershot.
He was made a Brevet-Major in 1911, a Brevet-Lieutenant-Colonel in 1916 and a Brevet-Colonel fit 1918. On June 15th, 1927, he was promoted to the rank of MajorGeneral.
He received the D.S.O. during the South African War, the C.M.G. and C.B.E. during the Great War and the G.B. in 1927. He was granted the Belgian Order of the Couronne and the French Croix de Guerre.