Grants for green conversions
28th March 1996
Page 8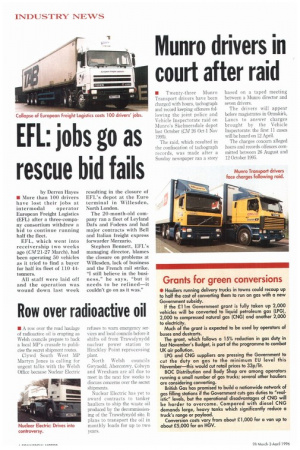 Page 8, 28th March 1996 —
Grants for green conversions
Close
• Hauliers running delivery trucks in towns could recoup up to half the cost of converting them to run on gas with a new Government subsidy.
If the £1 1 m Government grant is fully taken up 2,000 vehicles will be converted to liquid petroleum gas (LPG), 2,000 to compressed natural gas (CNG) and another 2,000 to electricity.
Much of the grant is expected to be used by operators of buses and dustcarts.
The grant, which follows a 15% reduction in gas duty in last November's Budget, is part of the programme to combat UK air pollution.
LPG and CNG suppliers are pressing the Government to cut the duty on gas to the minimum EU level this November—this would cut retail prices to 33p/lit.
BOC Distribution and Body Shop are among operators running a small number of gas trucks; several other hauliers are considering converting. British Gas has promised to build a nationwide network of gas filling stations if the Government cuts gas duties to "realistic" levels, but the operational disadvantages of CNG will be harder to overcome. Compared with diesel CNG demands large, heavy tanks which significantly reduce a truck's range or payload.
Conversion costs vary from about £1,000 for a van up to about £5,000 for an HGV.