BRIEFS
28th March 1996
Page 6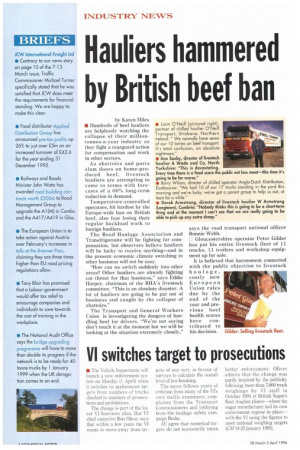 Page 6, 28th March 1996 —
BRIEFS
Close
JCW International Freight Ltd
• Contrary to our news story on page 10 of the 7-13 March issue, Traffic Commissioner Michael Turner specifically stated that he was satisfied that JCW does meet the requirements for financial standing. We are happy to make this clear.
• Food distributor Applied Distribution Group has announced pre-tax profits up 26% to just over C5m on an increased turnover of £42.6 for the year ending 31 December 1995.
• Railways and Roads Minister John Watts has awarded road building contracts worth £200m to Road Management Group to upgrade the Al (M) in Combs and the A417/A419 in Glos.
• The European Union is to take action against Austria over February's increases in tolls at the Brenner Pass, claiming they are three times higher than EU road pricing regulations allow.
• Tony Blair has promised that a labour government would offer tax relief to encourage companies and individuals to save towards the cost of training in the workplace.
• The National Audit Office says the bridge upgrading programme will have to more than double its progress if the network is to be ready for 40 tonne trucks by 1 January 1999 when the UK derogation comes to an end.