Examiner unaware of coupling desi
28th March 1996
Page 17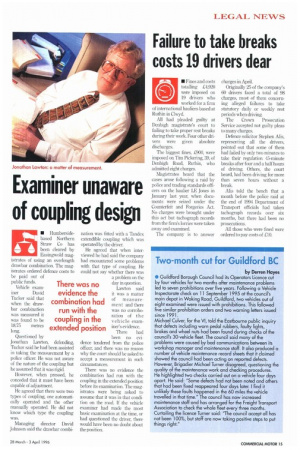 Page 17, 28th March 1996 —
Examiner unaware of coupling desi
Close
• Humbersidebased Northern Straw Co has been cleared by Easingwold magistrates of using an overlength drawbar combination. The magistrates ordered defence costs to be paid out of public funds.
Vehicle exam iner David Tucker said that when the drawbar combination was measured it was found to be 18.75 metres long.
Questioned by Jonathan Lawton, defending, Tucker said he had been assisted in taking the measurement by a police officer. He was not aware of the nature of the coupling but he assumed that it was rigid.
However, when pressed, he conceded that it must have been capable of adjustment.
He agreed that there were two types of coupling, one automatically operated and the other manually operated. He did not know which type the coupling was.
Managing director David Johnson said the drawbar combi
nation was fitted with a Tandex extendible coupling which was operated by the driver.
He agreed that when interviewed he had said the company had encountered some problems with that type of coupling. He could not say whether there was a problem on the day in question.
Lawton said it was a matter of measurement and there was no corroboration of the vehicle examiner's evidence.
There had been no evidence tendered from the police officer, and there was no reason why the court should be asked to accept a measurement in such circumstances.
There was no evidence the combination had run with the coupling in the extended position before its examination. The magistrates were being asked to assume that it was in that condition on the road. If the vehicle examiner had made the most basic examination at the time, or had questioned the driver, there would have been no doubt about the position.