Dawsongroup focuses on trailers
28th March 1996
Page 10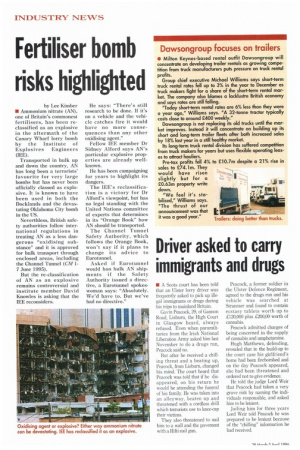 Page 10, 28th March 1996 —
Dawsongroup focuses on trailers
Close
or
Milton Keynes-based rental outfit Dawsongroup will ,ncentrate on developing trailer rentals as growing compe
ion from truck manufacturers puts pressure on truck rental of its.
Group chief executive Michael Williams says short-term ick rental rates fell up to 3% in the year to December as Jck makers fight for a share of the short-term rental mart The company also blames a lacklustre British economy id says rates are still falling. "Today short-term rental rates are 6% less than they were a year ago," Williams says. "A 32-tonne tractor typically costs close to around £400 weekly."
Dawsongroup is not replacing its old trucks until the market improves. Instead it will concentrate on building up its short and long-term trailer fleets after both increased sales by 18% last year in a still healthy market. Its long-term truck rental division has suffered competition from truck makers for years but uses flexible operating leases to attract hauliers.
Pre-tax profits fell 4% to £10.7m despite a 21% rise in sales to £74.1m. They would have risen slightly but for a £0.63m property write down.
"We feel it's sta bilised," Williams says.
"The thrust of our announcement was that it was a good year."