Business at Olympia.
28th March 1907
Page 3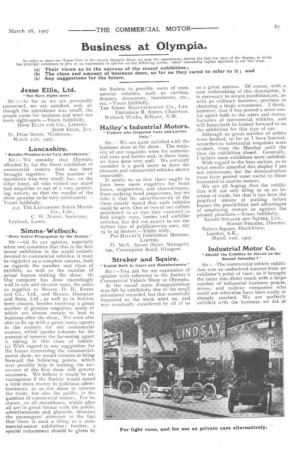 Page 4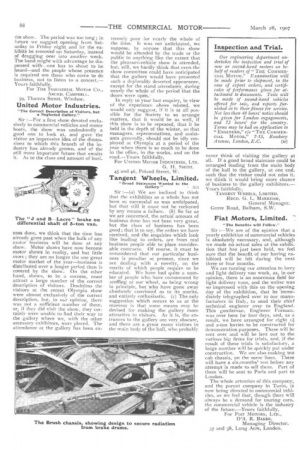 Page 3, 28th March 1907 —
Business at Olympia.
Close
In order to focus the Trade View of the recent Olympia Show, we took the opportunity, during the last few days of the display, to invite the principal exhibitors to give us an expression of opinion on the following points. Other interesting replies appeared In our last issue.
(a) Their views as to the success of the recent exhibition; (b) The class and amount of business done, so far as they cared to refer to it ; and (c) Any suggestions for the future.
Jesse Ellis, Ltd.
" Not Mere Sight-seers,"
Sir :—As far as we are personally concerned, we are satisfied, and, although the attendance was small, the people came for business and were not mere sight-seers.—Yours faithfully, JESSE ELLIS AND CO., LIMITED.
JESSE ELLIS, JUN.
St. Peter Street, Maidstone, March 21St, 1907.
Lancashire.
" Results Promise to be very Satisfactory."
Sir :--We consider that Olympia afforded by far the finest exhibition of commercial motors that has been brought together. The number of spectators was very small, but, on the other hand, all who visited our stand had enquiries to put of a very promising nature, so that the results of the show promise to be very satisfactory.— Yours faithfully,
p.p. THE LANCASHIRE STEAM MOTOR
CO., LTD., C. W. NIXON, Secretary. Leyland, Lancs.
SimmsWelbeck.
"More Active Propaganda by the society,'• Sir :—(a) In our opinion, especially when one considers that this is the first motor exhibition in the world entirely devoted to commercial vehicles, it must be regarded as a complete success, both as regards the number and class of exhibits, as well as the number of actual buyers visiting the show. (b) Our company has done exceedingly well in one and two-ton vans, the same as supplied to Messrs. D. H. Evans and Co., Ltd., and Messrs. Hampton and Sons, Ltd., as well as in five-ton lorry chassis, besides receiving a great number of genuine enquiries, many of which are almost certain to lead to business after the show, We were also able to fix up with a great many agents in the country for our commercial motors, which speaks volumes for the amount of interest the far-seeing agent is taking in this class of vehicle. (c) With regard to any suggestion for the future concerning the commercialmotor show, we would venture to bring forward the following points, which may possibly help in making the successors of the first show still greater successes. We believe it would be advantageous if the Society would spend a little more money in judicious advertisements, so as not alone to interest the trade, hut also the public, in the question of commercial motors. For instance, on all motorbuses, which after all are in great favour with the public, advertisements and placards, drawing the passengers' attention to the fact that there is such a thing as a commercial-motor exhibition ; further, a special inducement should be given by
the Society to possible users of commercial vehicles, such as carriers, drapers, decorators, launderers, etc., etc.—Yours faithfully,
THE SIMMS MANUFACTURING CO., LTD. FREDERICK R. Simms, Chairman. Welbecic. Works, Kilburn, N.W.
Halley' s Industrial Motors.'
" Visitors who Expected Vans and Lorries
Only."
Sir are quite satisfied with the business done at the show. The majority of our enquiries were for commercial vans and lorries and, in these lines, we have done very well. We certainly consider it a good Move to have the pleasure and commercial vehicles shown separately. It seems to us that there ought to have been more enquiries for hotel buses, wagonettes, and chars-à-banes, from outlying hotel proprietors, but we take it that the advertisements of the show clearly stated that such vehicles oould be seen. One or two of our callers mentioned to us that they expected to find simply vans, lorries and suchlike vehicles, but did not..expect to see the lighter type of public-service cars, say 15 to 25 seaters—Yours truly, Pr() HALLEY'S INDOSTRIAL MOTORS, LIMITED.
D. MON. SHARP (Sales Manager). 193, Crownpoint Road, Glasgow.
Straker and Squire.
"Useful Both to users and Manufacturers."
Sir :—You ask for my expression of opinion with reference to the Society's. Commercial Vehicle Show at Olympia.
At the outset some disappointment was felt by exhibitor's, due to the small attendance recorded, but that materially improved as the week went on, and was eventually considered by all of us as a great success. Of course, with a new undertaking of this description, it is necessary to secure establishmant, as with an ordinary business, previous to obtaining a large attendance. I think, however, that it has proved a most useful agent both to the users and manufacturers of commercial vehicles, and will henceforth be looked forward to as the exhibition for this type of car.
Although no great number of orders were booked, so far as I have learned, nevertheless substantial enquiries were evident, from the Monday until the time the exhibition closed. Generally, I believe most exhibitors were satisfied.
With regard to the boat section, as to what results attended this display I am not conversant, but the demonstration must have proved most useful to those interested in marine motors.
We are all hoping that the exhibi tion will not only bring to us an increase of trade, but that it has been the practical means of putting before buyers the possibilities and advantages of employing motors as against the present practices.—Yours faithfully,
SIDNEY STRAKER AND SQUIRE, LTD. SIDNEY STRAKER, Director. Nelson Square, Blackfriars,
London, S.E., March 21St, 1907.
Industrial Motor Co.
"Should the Exhibits be Moved on the Second Saturday?"
Sir :—The commercial vehicle exhibition was an undoubted success from an exhibitor's point of view, as it brought the latter into direct touch with a large number of influential business people, stores, and railway companies who could not otherwise have been easily or cheaply reached. We are perfectly satisfied with the business we did at
the show. The period was too long; in future we suggest opening from Saturday to Friday night and let the exhibits be removed on Saturday, instead of dragging over into another week. The band might with advantage be dispensed with—one has to shout to be heard—and the people whose presence is required are those who come to do business, not to listen to a concert— Yours faithfully, For TIIE INDUSTRIAL MOTOR CO., ARCHD. CAMPBELL.
sg, Thames Street, Windsor.
United Motor Industries.
"The Correct Description of Visitors, but a Neglected Gallery."
Sir :—For a first show devoted exclusively to commercial vehicles and motor boats, the show was undoubtedly a good one to look at, and gave the visitor an impressive idea of the dimensions to which this branch of the industry has already grown, and of the still more important future that awaits it. As to the class and amount of busi ness done, we think that the time has already gone past when the bulk of any motor business will be done at any show. Motor shows have now become motor shows in reality, and but little more ; they are no longer the one great motor market of the year—business is distributed over a longer period than is covered by the show. On the other hand, shows, to be a success, must attract a large number of the correct description of visitors. Doubtless the visitors at the recent Olympia show were almost exclusively of the correct description, but, in oar opinion, there was not a sufficient number of them, or, if they did visit the show, they certainly were unable to find their way to the gallery where we, with the other accessory exhibitors, were placed. The attendance at the gallery has been ex tremely poor for nearly the whole of the time. It was not anticipated, we suppose, by anyone that this show would be attended by the trade or the public to anything like the extent that the pleasure-vehicle show is attended, but, still, we hardly think that even the show committee could have anticipated that the gallery would have presented such a deplorably deserted appearance, except for the stand attendants, during nearly the whole of the period that the doors were open.
In reply to your last enquiry, in view of the experience above related, we would only suggest, if it is at all possible for the Society to so arrange matters, that it would be as well, if this show is to be repeated, that it be held in the depth of the winter, so that managers, representatives, and assistants generally, should not be idly employed at Olympia at a period of the year when there is so much to be done in the office, in the works, and on the road. —You rs faithfully, For UNITED MOTOR INDUSTRIES, LTD. G. H. SMITH. 45 and 46, Poland Street, W.
Tangent Wheels, Limited.
"Broad Staircases Wanted to the
Gallery " att8 Sir :—(a) We are inclined to think that the exhibition as a whole has not been so successful as was anticipated, but that still it must not be reckoned by any means a failure. (b) So far as we are concerned, the actual amount of business done has not been very great, but the class of business has been good; that is to say, the orders we have received, and the enquiries which look like leading to orders, are from real business people able to place considerable contracts. Of course, it must be remembered that our particular business is peculiar at present, since we are dealing with a novelty, on the merits of which people require to be educated. We have had quite a number of people who have commenced by scoffing at our wheel, as being wrong in principle, but who have gone away absolutely convinced as to its merits, and entirely enthusiastic. (c) The only suggestion which occurs to us at the moment is that some means may be devised for making the gallery more attractive to visitors. As it is, the entrances to the gallery are very obscure, and there are a great many visitors to the main body of the hall, who probably
never think of visiting the gallery at all. If a good broad staircase could be arranged leading from the main body of the hall to the gallery, at one end, such that the visitor could not miss it, we think it would bring more chance of business to the gallery exhibitors.— Yours faithfully,
TANGENT WHEELS, LIMITED, REGD. G. L. MARKHAM,
General Manager.
Grove Road, Balham, S.W.
Fiat Motors, Limited.
"The Benefits will Follow."
Sir :—We are of the opinion that a Yearly exhibition of commercial vehicles is absolutely necessary, and, although we made no actual sales at the exhibition that has just been held, we feel sure that the benefit of our having exhibited will be felt during the next three or four months.
We are turning our attention to lorry and light delivery van work, as, in our opinion, there is an enormous field for light delivery vans, and the writer was so impressed with this on the opening day of the exhibition, that he immediately telegraphed over to our manufacturers in Italy, to send their chief technical engineer over to England. This gentleman, Engineer Fornaca, was over here for four days, and, as a result, we have arranged for eight 1,1 and 2-ton lorries to be constructed for demonstration purposes. These will be sent over and will be lent out to the various big firms for trials, and, if the result of these trials is satisfactory, a large number will be quickly put under construction. We are also making ten cab chassis, on the same lines. These will have a six-months' test before any attempt is made to sell them. Part of them will be sent to Paris and part to London.
The whole attention of this company, and the parent company in Turin, is now being directed to commercial vehicles, as we feel that, though there will always be a demand for touring cars, the commercial vehicle is the industry of the future.—Yours faithfully,
For FIAT MOTORS, LTD., D'A. R. BAKER,
Managing Director. 37 and 38, Long Acre, London.