Ground-loading demountable has many applications
28th June 1974
Page 32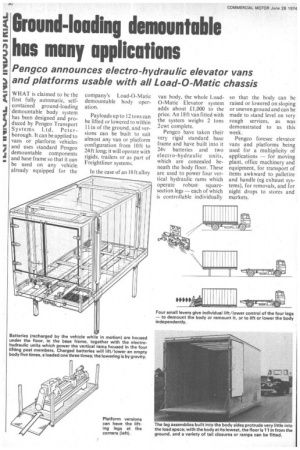 Page 32, 28th June 1974 —
Ground-loading demountable has many applications
Close
Pengco announces electro -hydraulic elevator vans and platforms usable with all Load-O-Matic chassis
WHAT is claimed to be the first fully automatic, selfcontained ground-loading demountable body system has been designed and produced by Pengco Transport
Systems Ltd, Peterborough. It can be applied to vans or platform vehicles and uses standard Pengco demountable components and base frame so that it can be used on any vehicle, already equipped for the
company's Load-O-Matic demountable body operation.
Payloads up to 12 tons can be lifted or lowered to within 11 in of the ground, and versions can be built to suit almost any van or platform configuration from 10ft to 24ft long; it will operate with rigid, trailers or as part of Freightliner systems.
In the case of an 18ft alloy van body, the whole LoadO-Matic Elevator system adds about £1,000 to the price. An 18ft van fitted with the system weighs 2 tons 2 cwt complete.
Pengco have taken their very rigid standard base frame and have built into it 24v batteries and two electro-hydraulic units, which are concealed beneath the body floor. These are used to power four vertical hydraulic rams which operate robustsquaresection legs — each of which is controllable individually so that the body can be raised or lowered on sloping or uneven ground and can be made to stand level on very rough services, as was demonstrated to us this week.
Pengco foresee elevator vans and platforms being used for a multiplicity of applications -for moving plant, office machinery and equipment, for transport of items awkward to palletize and handle (eg exhaust systems), for removals, and for night drops to stores and markets.