Notional Travel forms overseas division
28th June 1974
Page 23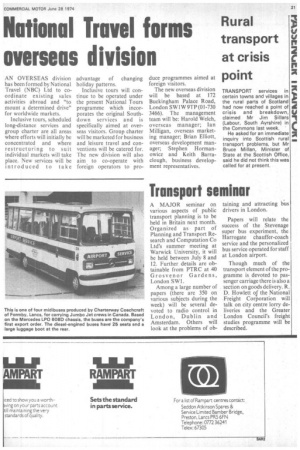 Page 23, 28th June 1974 —
Notional Travel forms overseas division
Close
AN OVERSEAS division has been formed by National Travel (NBC) Ltd to coordinate existing sales activities abroad and "to mount a determined drive" for worldwide markets.
Inclusive tours, scheduled long-distance services and group charter are all areas where efforts will initially be concentrated and where restructuring to suit individual markets will take place. New services will be introduced to take advantage of changing holiday patterns.
Inclusive tours will continue to be operated under the present National Tours programme which incorporates the original Southdown services and is specifically aimed at overseas visitors. Group charter will be marketed for business and leisure travel and conventions will be catered for. The new division will also aim to co-operate with foreign operators to pro duce programmes aimed at foreign visitors.
The new overseas division will be based at 172 Buckingham Palace Road, London SW1W 9TP (01-730 3466). The management team will be: Harold Welch, overseas manager; Ian Milligan, overseas marketing manager; Brian Elliott, overseas development manager; Stephen Hormanowicz and Keith Barradough, business development representatives.