Entries well up in South Bucks IlloY
28th June 1974
Page 20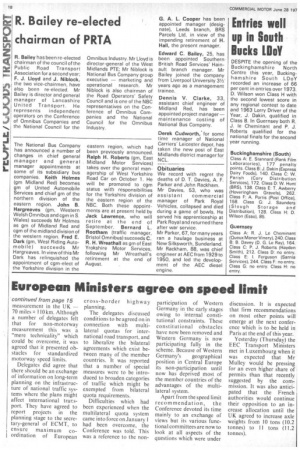 Page 20, 28th June 1974 —
Entries well up in South Bucks IlloY
Close
DESPITE the opening of the Buckinghamshire North Centre this year, Buckinghamshire South LDoY recorded an increase of 66 per cent in entries over 1973. D. Wilson won Class H with the second lowest score in any regional contest to date and 1963 Lorry Driver of the Year, J. Dakin, qualified in Class B. In Guernsey both R. J. le Cheminant and P. J. Roberts qualified for the national finals for the second year running.
Buckinghamshire (South) Class A: E. Stannard (Rank Film Laboratories), 177 penalty points. Class B: J. Eakin (Express Dairy Foods), 140. Class C: W. Parish (Cory Distribution Services), 172. Class D: W. Hunt (BAS), 138. Class E: I. Awberry (Hoveringham Gravels), 262. Class F: A. Portis (Post Office), 158. Class G: J. Saunders (Slough Storage and Distribution), 128. Class H: D. Wilson (Esso), 85.
Guernsey
Class A: R, J. Le Cheminant (Queux Manor Vinery), 240. Class B: B. Davey (D. G. Le Ray), 164. Class C: P. J. Roberts (Hayden Smith), 212. Class D: no entry. Class E: I. Ferguson (Sarnia Services), 244. Class F: no entry. Class G. no entry, Class H: no entry.