New abnormal load scheme
28th June 1974
Page 18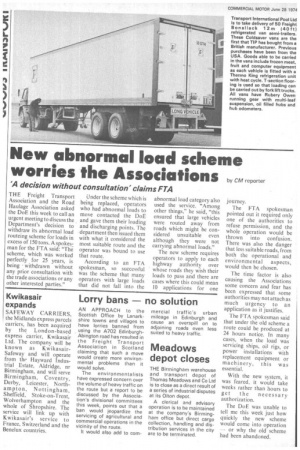 Page 18, 28th June 1974 —
New abnormal load scheme
Close
worries the Associations bY CM rePolter
'A decision without consultation' claims FTA
THE Freight Transport Association and the Road Haulage Association asked the DoE this week to call an urgent meeting to discuss the Department's decision to withdraw its abnormal load routeing scheme for loads in excess of 150 tons. A spokes: man for the FTA said: "The scheme, which was worked perfectly for 25 years, is being withdrawn without any prior consultation with the trade associations or any other interested parties."
Under the scheme which is being replaced, operators who had abnormal loads to move contacted the DoE and gave them their loading and discharging points. The department then issued them with what it considered the most suitable route and the operator was bound to use that route.
According to an FTA spokesman, so successful was the scheme that many operators with large loads that did not fall into the
abnormal load category also used the service. -Among other things," he said, "this ensured that large vehicles were routed away from roads which might be considered unsuitable even although they were not carrying abnormal loads."
The new scheme requires operators to apply to each highway authority over whose roads they wish their loads to pass and there are cases where this could mean 10 applications for one
journey.
The FTA spokesman pointed out it required only one of the authorities to refuse permission, and the whole operation would be thrown into confusion. There was also the danger that less suitable roads, from both the operational and environmental aspects, would then be chosen.
The time factor is also causing the Associations some concern and fear has been expressed that some authorities may not attach as much urgency to an application as it justifies.
The FTA spokesman said that under the old scheme a route could be produced at 24 hours notice. In many cases, when the load was servicing ships, oil rigs, or power installations with replacement equipment or machinery, this was essential.
With the new system, it was feared, it would take weeks rather than hours to get the necessary authorization.
The DoE was unable to tell me this week just how quickly the new scheme would come into operation or why the old scheme had been abandoned.