'Stop IH-Seddon deal' Benn urged
28th June 1974
Page 15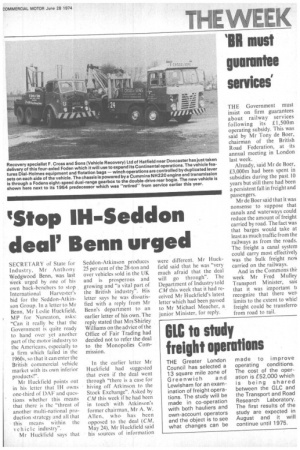 Page 15, 28th June 1974 —
'Stop IH-Seddon deal' Benn urged
Close
SECRETARY of State for Industry, Mr Anthony Wedgwood Benn, was last week urged by one of his own back-benchers to stop International Harvester's bid for the Seddon-Atkinson Group. In a letter to Mr Benn, rVIr I.eslie Huckfield, MP for Nuneaton, asks: "Can it really he that the Government is quite ready to hand over yet another part of the motor industry to the Americans, especially to a firm which failed in the 1960s, so that it can enter the British commercial vehicle market with its own inferior products?".
Mr H tick field points out in his letter that 1H owns one-third of DAF and quesLions whether this means that there is the "threat of another multi-national production strategy and all that this means within the vehicle industry".
Mr H tick field says that Seddon-Atkinson produces 25 per cent of the 28-ton and over vehicles sold in the UK and is prosperous and growing and "a vital part of the British industry". His letter says he was dissatisfied with a reply from Mr Benn's department to an earlier letter of his own. The reply stated that Mrs Shirley Williams on the advice of the Office of Fair Trading had decided not to refer the deal to the Monopolies Commission.
In the earlier letter Mr Huckficld had suggested that even if the deal went through "there is a case for hiving off Atkinson to the Stock Exchange". Asked by CM this week if he had been in touch • with Atkinson's former chairman, Mr A. W. Allen, who has been opposed to the deal (CM, May 24), Mr Huckfield said his sources of information were different. Mr Huckfield said that he was "very much afraid that the deal will go through". The Department of Industry told CM this week that it had received Mr Huckfield's latest letter which had been passed to Mr Michael Meacher, a junior Minister, for reply. THE Government must insist on firm guarantees about railway services following its £1,500m operating subsidy. This was said by Mr Tony de Boer, chairman of the British Road Federation, at its annual meeting in London last week.
Already, said Mr de Boer, £3,000m had been spent in subsidies during the past 10 years but still there had been a persistent fall in freight and passengers.
Mr de Boer said that it was nonsense to suppose that canals and waterways could reduce the amount of freight carried by road. The fact was that barges would take at least as much traffic from the railways as from the roads. The freight a canal system could carry most effectively was the bulk freight now carried on the railways.
And in the Commons thi: week Mr Fred Mulley Transport Minister, saic that it was important t( recognize that there wen limits to the extent to whicl freight could be transferrei from road to rail.