100,000 TO SAVE BEST BUS ROUTES
28th January 1938
Page 30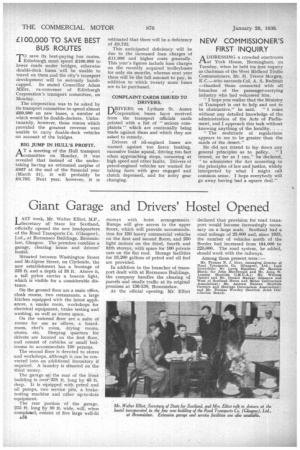 Page 30, 28th January 1938 —
100,000 TO SAVE BEST BUS ROUTES
Close
T0 save its best-paying bus routes, Edinburgh must spend £100,000 to lower roads under bridges, otherwise double-deck buses will be unable to travel on them and the city's transport development will be seriously handicapped. So stated Councillor Adam Miller, ex-convener of Edinburgh Corporation's transport committee, on Monday.
The corporation was to be asked by its transport committee to spend almost £60,000 on new buses, a number of which would be double-deckers, Unfortunately, however, those routes which provided the greatest revenue were unable to carry double-deck vehicles on account of the bridges.
BIG JUMP IN HULL'S PROFIT.
AT a meeting of the Hull transport committee on Monday, it was revealed that instead of the undertaking having an estimated surplus of £957 at the end of the financial year (March 31), it will probably be £9,782. Next year, however, it is
estimated that there will be a deficiency of £9,732.
• This anticipated deficiency will be due to the increased loan charges of £11,000 and higher costs generally. This year's figures include loan charges on the recently acquired trolleybuses for only six months, whereas next year there will be the full amount to pay, in addition to which twenty more buses are to be purchased.
COMPLAINT CARDS ISSUED TO DRIVERS.
DRIVERS on Lytham St. Annes L./Corporation buses have received from the transport officials cards printed with a list of "serious complaints" which are continually being made against them and which they are asked to remedy.
Drivers of oil-engined buses are warned against too fierce braking, excessive brake squeal, driving too fast when approaching stops, cornering at high speed and other faults. Drivers of petrol-engined vehicles are warned for taking fares with gear engaged and clutch depressed, and for noisy gear changing.
NEW COMMISSIONER'S FIRST INQUIRY
ADDRESSING a crowded courtroom at York House, Birmingham, on Tuesday, when he held his first inquiry as chairman of the West Midland Traffic Commissioners, Mr. H. Trevor Morgan, K.C.—who succeeds Col. A. S. Redman —thanked those connected with all branches of the passenger-carrying industry who had welcomed him.
"I hope you realize that the Ministry of Transport is out to help and not to be obstructive," he said. "I come without any detailed knowledge of the administration of the Acts of Parliament, and I approach this task without knowing anything of the locality. . . .
" The multitude of regulations appears to me to be greater than the sands of the desert."
He did not intend to lay down any general principles as to policy. "I intend, so far as I can," he declared, " to administer the Act according to the principles of law and justice, widely interpreted by what I might call common sense. I hope everybody will go away having had a square deal."