PUMP UP THE VOLUME
28th February 2008
Page 46
Page 47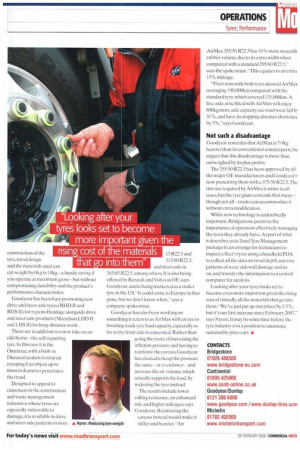 Page 46, 28th February 2008 —
PUMP UP THE VOLUME
Close
Keywords :
Transport
,
Land Transport
,
Technology
,
Articulated Vehicles
,
Trucks
,
Michelin
,
Tractor Unit
,
Goodyear Tire And Rubber Company
,
Bridgestone
,
Axle
,
Tires
,
Nokian Tyres
lyres have a vital role to play when it comes :o fuel performance and running costs. Steve
3anner looks at the latest developments.
o m atter how much the companies that produce them may sometimes Ai pretend otherwise, truck tyres lack lamour — and trailer tyres are even less ritzy. 4ichelin and Continental will have to work vcrtime with the dry ice and dancing girls if teir latest products for trailers are to be given Dine allure.
Michelin's low-profile 19.5in X-One 4axiTrailer 255/60 R19.5 tyre, which will be fficially launched to the UK at the iinimercial Vehicle Show in April, allows disc rakes lobe fitted to low-platform trailers thile retaining the overall diameter and arrying capacity of the 17.5in tyres usually eployed. Because they operate at such a Dmparatively high temperature, disc brakes innot generally be used in conjunction with 7.5in wheels, so cooler-running drum brakes ave to be used instead, with all the extra iaintenance costs and downtime that entails. What's more,says Michelin, t he casings of ie new tyres should last 30% longer than lose of its 245/70 R17.5 XTE2.
Not that Michelin is neglecting 17.5in trailer zes.At the CV show it will also be unveiling 205/65 R17.5 MaxiTrailer, in answer. it says, requests from operators to increase the iad-carrying capacity of its established 205/65 17.5 tyre.
The newcomer is designed primarily for ailers used by heavy hauliers— low-loaders for example — and allows axle loads to be increased by up to 400kg.Other claimed benefits include an increase of U p 10 20% in casing endurance and a 4% cut in rolling resistance compared with the equivalent XTE2 tyre of this size.
Continental, meanwhile, is introducing an upgraded 385/65 R22.5 trailer tyre, says UK brand manager, truck, Mike Nyren.''It offers 20% more mileage," he says.
"It also offers lower rolling resistance; remember that 60% of any tyre-related improvement in fuel consumption on an artic is going to come from the trailer tyres." says Nyren.
More resistance Fitting low-rolling-resistance tyres to the tractor unit as well could cul diesel usage by up to 5%, says Nyren, although a lot will depend on the sort of work the truck is on.
Continental is also launching new tyres for operators of rigid tippers, including steer and drive-axle patterns.
-Something were concentrating on is reducing tyre weight, especially where tyres that are going to he used on tippers are concerned," says Nyren. Changes to the ,.0iitruction of the tyre, tread design and the materials used can cut weight by 6kg to 10kg— a handy saving if you operate at maximum gross — but without compromising durability and the product's performance characteristics.
Goodyear has been busy promoting new drive and steer-axle tyres (RH D II and RHS 11) for regional haulage alongside drive and steer-axle products (Marathon LHD II and LHS 11) for long-distance work.
These are in addition to a new take on an old theme — the self-repairing tyre. In this case it is the Omnitrac, with a built-in Duraseal sealant to stop air escaping if an object up to 6mm in diameter penetrates the tread.
Designed to appeal to customers in the construction and waste management industries, whose tyres are especially vulnerable to damage, it is available in drive and steer-axle patterns in sizes 13 R22.5 and 315/80 R22.5. and steer-axle in 385/65 R22.5. among others. It is also being offered by Renault and Volvo as OF, says Goodyear, and is being marketed as a trailer tyre in the US. "It could come to Europe in that guise. hut we don't know when," says a company spokesman.
Goodyear has also been working on something it refers to as AirMax with an eye to boosting truck tyre load capacity, especially as far as the front axle is concerned. Rather than going the route of increasing the inflation pressure and having to reinforce the carcass, Goodyear has elected to keep the pressure the same — or even lower — and increase the air volume,which actually supports the load, by widening the tyre instead.
t at o into t em"
The results include lower rolling resistance, an enhanced ride and higher mileages, says Goodyear. Reinforcing the carcass instead would make it stiffer and heavier. "An AirMax 355/50 R22.5 has 16% more wearablc rubber volume due to its extra width when compared with a standard 295/60 R22.5," says the spokesman. "Ibis equates to an extra 15% mileage.
"Fleet tests with both tyres showed AirMax averaging 190,000km compared with the standard tyre, which covered 135,000km. A five-axle artic fitted with AirMax will enjoy 800kg more axle capacity, see road wear fall b: 31% .and have its stopping distance shortenec by 3%." says Goodyear.
Not such a disadvantage Goodyear concedes that AirMax is 7-9kg heavier than its conventional counterparts, bu argues that this disadvantage is more than outweighed by its plus-points.
The 355/50 R22.5 has been approved by all the major OE manufacturers and Goodyear i! now presenting them with a 375/50 R22.5.The rim size required by AirMax is wider in all cases, but the tyre giant contends that many — though not all— trucks can accommodate it without extra modification.
While new technology is undoubtedly important,Bridgestone points to the importance of operators effectively managing the tyres they already have. As part of what it describes as its Total Tyre Management package it can arrange for technicians to inspect a fleet's tyres using a handheld PDA to collect all the data on tread depth, uneven patterns of wear. sidewall damage and so on,and transfer the information to a central computer for analysis.
Looking after your tyres looks set to become even more important given the rising cost of virtually all the materials that go into them." We've just put up our prices by 3.5%, but it's our first increase since February 2007," says Nyren. It may be some time before the tyre industry is in a position to announce sustainable price cuts. •