MARQUE OF SUCCESS
28th February 2008
Page 42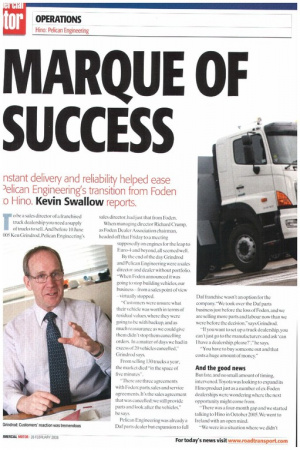 Page 43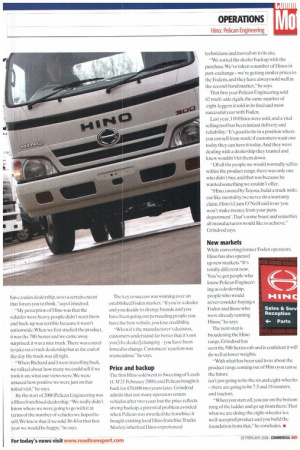 Page 42, 28th February 2008 —
MARQUE OF SUCCESS
Close
nstant delivery and reliability helped ease Jelican Engineering's transition from Foden o Hino. Kevin Swallow reports.
To be a sales director of a franchised truck dealership you need a supply of trucks to sell. And before 10 June 005 Ken Grindrod, Pelican Engineering's sales director. had just that from Foden.
When managing director Richard Crump, as Foden Dealer Association chairman, headed off that Friday to a meeting supposedly on engines for the leap to Euro-4 and beyond, all seemed well.
By the end of the day Grindrod and Pelican Engineering were a sales director and dealer without portfolio. "When Foden announced it was going to stop building vehicles, our businessfrom a sales point of view -virtually stopped.
"Customers were unsure what their vehicle was worth in terms of residual values, where they were going to be with backup, and as much reassurance as we could give them didn't stop them cancelling orders. In a matter of days we had in excess of 20 vehicles cancelled,Grindrod says.
From selling 130 trucks a year, the market died "in the space of live minutes".
-There are three agreements with Foden: parts, sales and service agreements. It's the sales agreement that was cancelled: we still provide parts and look after the vehicles," he says.
Pelican Engineering was already a Daf parts dealer but expansion to full Daf franchise wasn't an option for the company."We took over the Daf parts business just before the loss of Foden, and we are selling more parts and labour now than we were before the decision," says Grindrod.
"If you want to set up a truck dealership, you can't just go to the manufacturers and ask 'can have a dealership. please?'," he says.
"You have to buy someone out and that costs a huge amount of money."
And the good news But late, and no small amount of timing, intervened.Toyota was looking to expand its Hino product just as a number of ex-Foden dealerships were wondering where the next opportunity might come from.
"There was a four-month gap and we started talking to Hino in October 2005.We went to Ireland with an open mind, "We were in a situation where we didn't ca sales dealership, so to a certain extent that forces you to think," says Grindrod, "My perception of Nino was that the vehicles were heavy, people didn't want them and back-up was terrible because it wasn't nab onwide.When we first studied the product, it was the 700-Series and we came away surprised: it was a nice truck.There was a need to take on a truck dealership but at the end of the day the truck was all right.
"When Richard and I were travelling hack, we talked about how many we could sell ii we took it on. what our views were.We were amazed how positive we were just on that initial visit," he says.
By the start of 2006 Pelican Engineering was a Hino franchised dealership. "We really didn't know where we were going to go with it in terms of the number of vehicles we hoped to Sell, We knew that if we sold 30-40 in that first year we would be happy," he says. The key to success was winning over an established Foden market."If you're a dealer and you decide to change brands, and you have been going out persuading people you have the hest vehicle, you lose credibility.
"When it's the manufacturer's decision, customers understand far better that it's not you [the dealer] changing you have been forced to change. Customers' reaction was tremendous," he says.
Price and backup The first El ino sold went to Sweeting of Leeds (CM 21 February 2008) and Pelican bought it back for £50,000 two years later. Grindrod admits that not many operators return vehicles after two years but the price reflects strong backup,a potential problem avoided when Pelican was awarded the franchise: it bought existing local 1 lino franchise Trucks Morley. inherited Hino-experienced technicians and moved on to its site.
"We sorted the dealer backup with the purchase. We've taken a number of Hinos in part-exchange-we're getting similar prices to the Fodens, and they have always sold well in the second-hand market," he says.
That first year Pelican Engineering sold 62 multi-axle rigid& the same number of eight-leggers it sold in its final and most successful year with Foden.
Last year.110 Hinos were sold, and a vital selling tool has been instant delivery and reliability. "It's good to be in a position where you can sell from stock; if customers want one today they can have it today. And they were dealing with a dealership they trusted and knew wouldn't let them down.
"Of all the people we would normally sell to within the product range,there was only one who didn't buy, and that was because he wanted something we couldn't offer.
-Hino. owned by Toyota, build a truck with car-like mentality; we never do a warranty claim. Hino's Liam O'Neill said to us'you won't make money from your parts departmenf.That's some boast and somethin, all manufacturers would like to achieve." Cirindrod says.
New markets While converting former Foden operators, Hino has also opened up new markets. "It's totally different now. You've got people who know Pelican Engineering as a dealership, people who would never consider buying a Foden and those who were already running Hinos," he says.
The next step is broadening the Hino range.Grindrod has seen the 500-Series cab and is confident it will do well at lower weights.
"With what has been said to us about the product range coming out of Hino you can se the future
Sales & Serv Reception 4Parts
isn't just going to be the six and eight-wheelet there are going to be 7.5 and 18-tonners, and tractors "When you start off, you are on the bottom rung of the ladder and go up from there.That what we are doing: the eight-wheeler is a well-accepted product and you build the foundation from that," he concludes. w