Deputy IC voices support for council's objedions to artics
28th February 2008
Page 25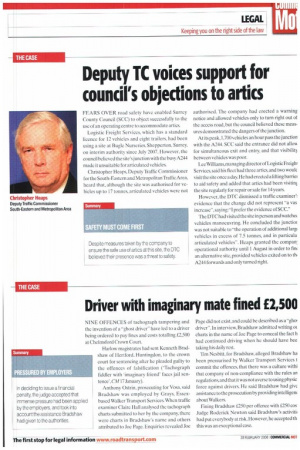 Page 25, 28th February 2008 —
Deputy IC voices support for council's objedions to artics
Close
FEARS OVER road safety have enabled Surrey County Council (SCC) to object successfully to the use of an operating centre to accommodate artics.
Logistic Freight Services, which has a standard licence for 12 vehicles and eight trailers, had been using a site at Bugle Nurseries. Shepperton. Surrey, on interim authority since July 2007. However, the council believed the site's junction with the busy A244 made it unsuitable for articulated vehicles.
Christopher Heaps, Deputy Traffic Commissioner for the South-Eastern and Metropolitan Traffic Area, heard that, although the site was authorised for vehicles up to 17 tonnes, articulated vehicles were not authorised. The company had erected a warning notice and allowed vehicles only to turn right out of the access road, but the council believed these measures demonstrated the dangers of the junction.
At its peak,1,7(X) vehicles an hour pass the junction with the A244. SCC said the entrance did not allow for simultaneous exit and entry, and that visibility between vehicles was poor.
Lee Williams,managing director of Logistic Freigh! Services, said his fleet had three artics, and two woulc visit the site once a day. He had erected a lifting barriei to aid safety and added that artics had been visitirq the site regularly for repair or sale for 14 years.
However, the DTC dismissed a traffic examinee! evidence that the change did not represent "a vas increase", saying:" I prefer the evidence of SCC."
The DTC had visited the site in person and watchec vehicles manoeuvring. He concluded the junctiot was not suitable to-the operation of additional largt vehicles in excess of 7.5 tonnes, and in particula articulated vehicles". Heaps granted the compan: operational authority until 1 August in order to fint an alternative site, provided vehicles exited on to th, A244 forwards and only turned right.