Moto must take responsibility
28th February 2008
Page 17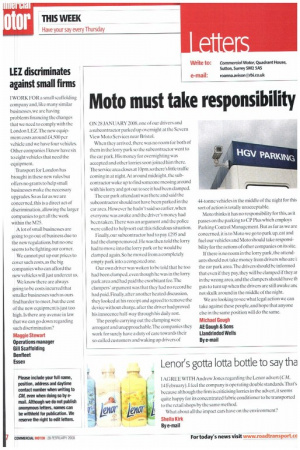 Page 17, 28th February 2008 —
Moto must take responsibility
Close
ON 28 JANUARY 2008, one of our drivers and a subcontractor parked up overnight at the Severn View Moto Services near Bristol.
When they arrived, there was no room for both of them in the lorry park so the subcontractor went to the car park. His money for overnighting was accepted and other lorries soon joined him there. The service area closes at lOpm,so there's little traffic coming in at night. At around midnight,the subcontractor woke up to find someone messing around with his lorry and got out to see it had been clamped.
The car park attendant was there and said the subcontractor should not have been parked in the car area. However he hadn't said so earlier, when everyone was awake and the driver's money had been taken.There was an argument and the police were called to help sort out this ridiculous situation.
Finally, our subcontractor had to pay £295 and had the clamp removed. He was then told the lorry had to move into the lorry park or he would be clamped again. So he moved from a completely empty park into a congested one.
Our own driver was woken to he told that he too had been clamped, even though he was in the lorry park area and had paid the exorbitant fee.The dampers' argument was that they had no record he had paid. Finally, after another heated discussion, they looked at his receipt and agreed to remove the device without charge, after the driver had proved his innocence half-way through his daily rest.
The people carrying out the clamping were arrogant and unapproachable.The companies they work for surely have a duty of care towards their so-called customers and waking up drivers of 44-tonne vehicles in the middle of the night for this sort of action is totally unacceptable.
Moto thinks it has no responsibility for this, as it passes on the parking to CP Plus which employs Parking Control Management. But as far as we are concerned, it is to Moto we go to park up, eat and fuel our vehicles and Moto should take responsibility for the actions of other companies on its site.
If there is no room in the lorry park, the attendants should not take money from drivers who are the car park area.The drivers should be informed that even if they pay, they will be clamped if they at in the wrong area, and the dampers should have th guts to turn up when the drivers are still awake anc not skulk around in the middle of the night.
We are looking to see what legal action we can take against these people, and hope that anyone else in the same position will do the same.
Michael Gough AE Gough & Sons Llandrindod Wells By e-mail