Narning over digitach default setting
28th February 2008
Page 14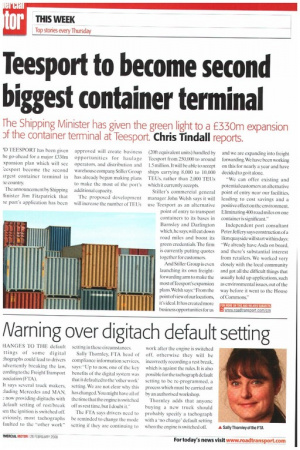 Page 14, 28th February 2008 —
Narning over digitach default setting
Close
LIANGES TO THE default ttings of some digital :hographs could lead to drivers advertently breaking the law, cording to the Freight Transport ;soda tion (F1A).
It says several truck makers, ;hiding Mercedes and MAN, now providing digitachs with Je fa ult setting of rest/break ten the ignition is switched off. eviously, most tachographs faulted to the "other work" setting in these circumstances.
Sally Thornley, FTA head of compliance information services, says: -Up to now, one of the key benefits of the digital system was that it defaulted to the 'other work' setting. We are not clear why this has changed.You might have all of the time that the engine is switched off as rest time, but !doubt it: The VIA says drivers need to he reminded to change the mode setting if they are continuing to work after the engine is switched off, otherwise they will be incorrectly recording a rest break, which is against the rules. It is also possible for the tachograph default setting to be re-programmed. a process which must be carried out by an authorised workshop.
Thornley adds that anyone buying a new truck should probably specify a tachograph with a `no change' default setting when the engine is switched off.