Tribunal rejects appeal for vehicle's return
28th February 2008
Page 12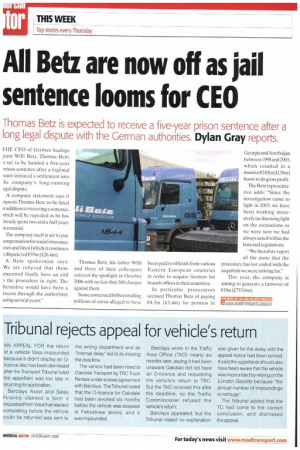 Page 12, 28th February 2008 —
Tribunal rejects appeal for vehicle's return
Close
AN APPEAL FOR the return of a vehicle Vosa impounded because it didn't display an 0licence disc has been dismissed after the Transport Tribunal ruled the appellant was too late in returning its application.
Barclays Asset and Sales Finance claimed a form it requested from Vosa that needed completing before the vehicle could be returned was sent to
the wrong department and an "internal delay" led to its missing the deadline.
The vehicle had been hired to Oakdale Transport by TRC Truck Rentals under a lease agreement with Barclays. The Tribunal noted that the 0-licence for Oakdale had been revoked six months before the vehicle was stopped at Felixstowe docks, and it was impounded. Barclays wrote to the Traffic Area Office (TAO) nearly six months later, saying it had been unaware Oakdale did not have an 0-licence and requesting the vehicle's return to TRC. But the TAO received this after the deadline, so the Traffic Commissioner refused the vehicle's return.
Barclays appealed, but the Tribunal stated no explanation was given for the delay until the appeal notice had been served. It said the appellants should also have been aware that the vehicle was impounded by relying on the London Gazette because "the annual number of impoundings is not huge".
The Tribunal added that the IC had come to the correct conclusion, and dismissed the appeal.