All Betz are now off as jail sentence looms for CEO
28th February 2008
Page 12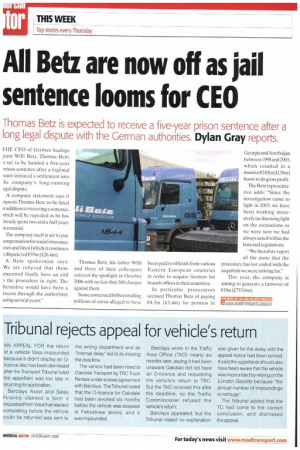 Page 12, 28th February 2008 —
All Betz are now off as jail sentence looms for CEO
Close
Thomas Betz is expected to receive a five-year prison sentence after a
long legal dispute with the German authorities. Dylan Gray reports.
THE CEO of German haulage ?,iant Willi Betz, Thomas Betz, s set to be handed a five-year lrison sentence after a regional :ourt initiated a settlement into he company's long-running egal dispute.
A company statement says it !xpects Thomas Betz to be fined n addition to receiving a sentence, vhich will be repealed as he has "ready spent two and a half years in remand.
The company itself is set to pay ompensati on for social insurance, axes and lines (which it continues .) dispute) of €35m (126.4m).
A Betz spokesman says: We are relieved that those oncerned finally have an end 3 the procedure in sight. The lternative would have been a rocess through the authorities isting several years." Thomas Betz, his father Willi and three of their colleagues entered the spotlight in October 2006 with no less that 560 charges against them.
Some concerned bribes totalling millions of euros alleged to have been paid to officials from various Eastern European countries in order to acquire licences for branch offices in their countries.
In particular, prosecutors accused Thomas Betz of paying €4.5m (&3.4m) for permits in GeorgiaandAzerbaijan between 1998 and 2003, which resulted in a massive £183m (£138m) boost to its gross profit.
The Betz representative adds: "Since the investigation came to light in 2003, we have been working intensively on throwing light on the accusations, as we were sure we had always acted within the laws and regulations.
-We therefore regret all the more that the procedure has not ended with the acquittals we were striving for.
This year, the company is aiming to generate a turnover of Elbn (£753.6m).
FOR MORE ON THIS AND RELATED SUBJECTS
www.roadtransport.com/cm